Since it's winter, I'm pretty sure that the only thing I'm allowed to make any more is stew….in some variety.  Even if it's not exactly meant to be a stew, that seems to be what everything ends up as lately, and with all the cold and snow, I can't say I'm complaining…although we got something of a break today…it snowed until noon, but once it stopped it was actually significantly warmer outside then it had been in quite some time, and I'll take what I can get.
For anyone unfamiliar with the history, cholent is the brown lumpy stewlike substance on which religious Jews have subsisted since more-or-less the beginning of time.  The idea is that you put a bunch of ingredients in a pot over very low heat friday afternoon, which will then remain on throughout Shabbat, and until sundown Saturday, with served portions being removed for lunch Saturday afternoon.  The remainder then goes into the freezer at the end of Shabbat, where it will never be seen again, since no one wants to eat something as suspicious looking as cholent in the middle of the week, and traditionally you are required to make another batch next Friday….or so I've always understood it.  Over the centuries there have been a couple changes made…namely that pretty much everyone I know now (including myself) makes it in a slow cooker these days, which seems safer overall then leaving any sort of oven flame on for 24 hours.  I've never made cholent the same twice, since it is generally a product of whatever I have on hand at the given moment, and that said, this week's was based off some leftover black beans and crushed pineapple in the refrigerator, which led me to think…Cholent cubano!!!  Just in case you were wondering, there are Cuban Jews (I know some) so this isn't totally outside of the realm of possibility, although I made up this particular rendition.
I served it with some cornbread, which may not be terribly Cuban, but I think all stew-like things are better with cornbread on the side.
Ingredients
1/2 cup dried fava beans
1 can black beans
1/2 cup crushed pineapple
1 medium onion, diced
3 cloved garlic, minced
2 sweet potatoes, chopped into 1/2 inch cubes
2 tbs Jerk Seasoning
1 cup vegetable broth
S+P to taste
1 cup pasta of choice…optional and not at all traditional
Directions
1. Combine all ingredients in slow cooker just before sundown Friday, turn to low and cover. Don't touch until serving at lunch Saturday. if you do choose to include pasta, add it about an hour before lunch, any sooner and it will disintegrate. A safer option is to precook the pasta on its own and toss it in already done.
These are the Cheezey potatoes from Viva Vegan, a recipe that my roommate picked out, and which I hadn't even noticed in flipping through the book.  I'm normally not a huge fan of fake cheezy sauce, but this was one that I actually really liked..probably because it is full of fat in the form of soy creamer.  I guess we now know what wins me over…I'd make this again, it's quick easy and nice on a cold winters night, especially while the cheese sauce is still warm.  It didn't seem quite as good reheated, so this may not be the best candidate for leftover.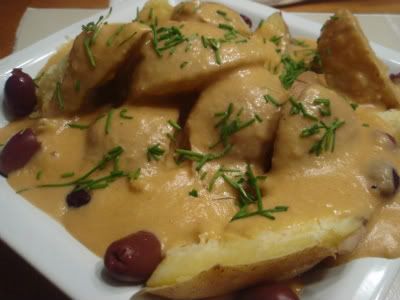 You had to know that chili was coming in this line-up…how could it not be?  I went with the classic black bean chili from Appetite for Reduction although I didn't know that black bean chili was traditional…I normally feel that I have to use kidney beans in chili, even though they are one of my least favorite beans.  I replaced the zucchini with peas (not because I have anything against zucchini, but because I didn't have one, and there are always peas in my freezer) and the cilantro with a heaping tablespoon of coriander.  Also as a note, I used the Chili 3000 powder from Penzeys, which if there is a Penzey's by you, is totally worth the buy, you could sprinkle that stuff on a shoe and it would smell like a slow-cooked pot of chili and have you drooling over it.  (Although for the record, I do not promote eating shoes, leather or man made).  I also did this in the slow-cooker, just because I find that easiest, and it makes my apartment smell amazing for longer.  About 5 hours on low was perfect.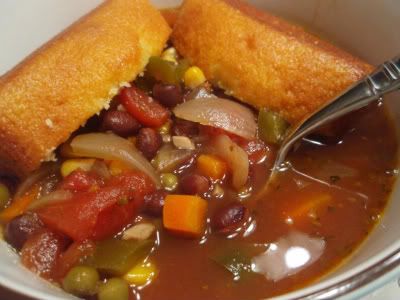 This did turn out to be more of a soupy chili.  I think part of my problem was in forgetting that I was using frozen corn and peas, and probably could have halved the water called for in the recipe…something to know for next time.   I suppose I also could have added a cornstarch slurry at the end to thicken things up if it had really bothered me.
Last but not least, a little teaser.  I am doing recipe testing for The Diet, Dessert and Dogs e-books, and this is the first recipe I tried out, for Cheaters Injera and African Inspired Spicy Beans.  I can't give anything much away, but let me just tell you these were AWESOME, and totally have me back on the savory breakfast bandwagon.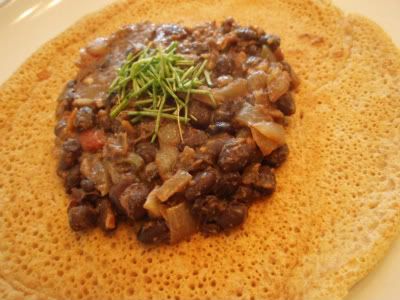 Selah.