In times like these, I'm really happy I own Appetite for Reduction, even though I know a few weeks ago I said I didn't believe in diet food.  Oh well, what can you say, I'm wishy washy.   Just call me John Kerry.  (That said I like the guy, I'm still bummed he lost) I put away my sweater and realized I was a little softer in the middle than I thought.  Things are going well though, I'm already down 3 pounds from last week, and I wasn't even thinking I'd lost much of anything…just reshape a bit.  "Re-locate" my abs so to speak.  Anyway, I can't even complain about eating "diet" food because I've enjoyed everything I've had over the last week or so, healthy and low calorie as it may be.  I actually feel a lot better after meals, and couldn't be more thrilled stew season is over.
I've done a number of wraps…they're different everyday, basically a tortilla spread with hummus, then filled with whatever veggies are on hand (I think this one had baby spinach, asparagus, pickle, red bell pepper, raisins, and a dollop of low-fat re-fried beans if I remember correctly)
Don't be afraid to garnish with carrot sticks…crunchy and delicious with everything, and not currently getting my standard treatment of maple syrup and "butter".
From Appetite, I made the Kasha with mushrooms and dill…or in Jewish speak, Kasha Vernishkas.  As soon as I started cooking the onion and mushrooms for this, I was transported back to my childhood.  I couldn't remember the last time I'd eaten the dish, but as soon as I'd started in, it came right back to me…the scent, the flavor….I couldn't wait to dig in.  This didn't disappoint, it was exactly what I remembered, although I'll be honest, I don't think my family has ever served it up over Collard Greens like I did: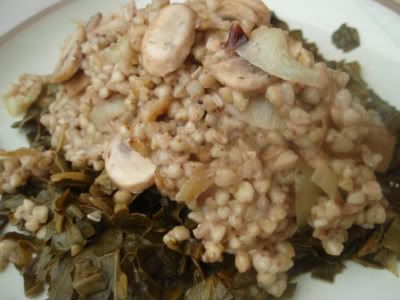 Last but not least, was last night's dinner, the Vietnamese Rice Noodle Salad.  I used wide rice noodles because I didn't have the Vermicelli on hand, and replaced green beans with some red bell.  I also didn't have the fresh mint and had to use some dried…but it was still really good.  Nice and light, which fooled me into thinking I needed a second bowl, after which my head caught up to my stomach and informed me one probably would have been enough.  No one's perfect though…and that full stomach caught up to me as soon as we did a Bow pose in yoga later that night…not full-stomach friendly.
The Salad:
The offending bow pose: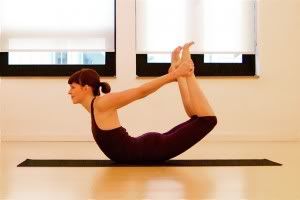 (That's someone else, not me, but you can see what it does to a full stomach).  Hope everyone is enjoying this beautiful spring weather as much as I am!
Selah.