Barney Colored Brussels
Ever since I discovered how good oven-baked Brussels are, that's the only way I'd been making them, and so I decided it might be time to try them out on the stove-top again.  I ended up with a serious green and purple color scheme going on here, which is why I'm calling them "Barney Colored Brussels"…check em out:
First there were some Asian flavored Brussels and onions: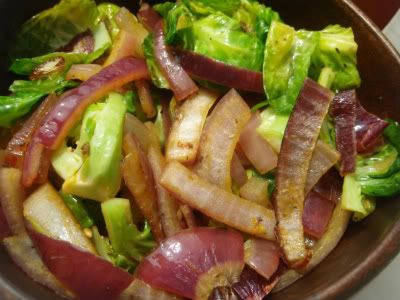 This was really simple but delicious, and would have been great with a lo mein or udon noodle, although I simple at the bowl as is.
Barney Brussels and Onions
10-12 brussels, stems and outer leaves trimmed and halved
1/2 large red onion, halved and thinly sliced
2 tbs soy sauce
2 tbs mirin
1 tsp peanut oil
few squirts schezuan pepper oil
1 tsp sesame oil
1 tsp Tandoori Masala
2 cloves garlic, minced
S+P to taste
Directions
1. Heat peanut oil in a large skillet over wok on low/medium heat. Add garlic an stir for approximately 30 second, then add onions. Stir and fry approx 2 minutes until beginning to turn translucent then add brussels. Cook for 3-4 minutes, then add all the other ingredients except salt and pepper. Cook another 6-8 minutes, tossing every so often for even cooking. Salt and Pepper to taste, and enjoy!
Then I did more of an Asian/Mexican Fusion dish, although I ended up not being a huge fan, so I'll save the recipe until I've reworked it to something I like better.  Here's a picture though: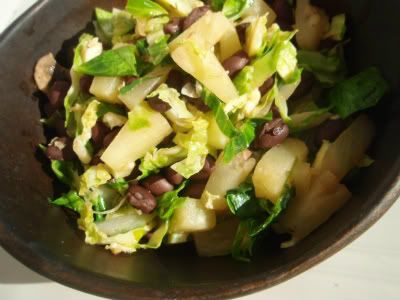 There were black beans, pineapple and Brussels involved, but something about the textures and flavors together didn't quite work…I though I could make something I'd love with black beans and brussels but thus far no success…
Selah.