More Adventures from Appetite for Reduction
A bounty of canned beans found its way into my pantry this week, and since they all came in so fast, I apparently felt I had to get them into food just as fast.  I pulled out Appetite for Reduction again to see what it had to offer and pulled out a few recipes that probably weren't meant to be served up together, but that's never bothered me before…
First were the mushroom and bean paprikas, which I made with button mushrooms and cannelini beans.  This was ok, but not terribly ground-breaking.  I was a bigger fan of the tamarind quinoa from the book, which is hidden underneath.  I make a lot of quinoa, and use quite a bit of tamarind concentrate, but these were two flavors I'd never thought to combine before.  I liked the result, and I'm sure I will be going back to this although perhaps not under mushrooms and beans, since the flavors don't meld all that well.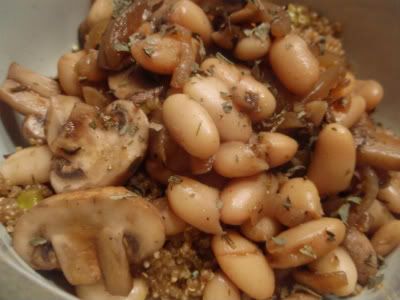 Since there were still beans and a couple mangoes and apples staring back at me from the fruit bowl, I decided it was time to try the mango bbq beans and apple-miso tofu, also from the book.  I LOVE LOVE LOVE these beans…they are quite possibly my new favorite backed bean rendition ever…although I'll admit to using pintos instead of kidneys, which have never been a favorite of mine.  I would definitely stick with the pintos in the future, they soak up the flavors perfectly!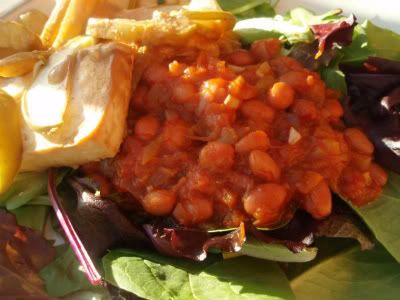 The apple-miso tofu I was less certain about.  even though I used a bit less miso then called for in the recipe, I still felt it was overkill, and the apples weren't quite enough sweet to counterbalance.  It's possible I'll mess with the amounts and try this recipe again in the future, but for now, it's just not a favorite.
Selah.