LOTS of FOOD PORN
If that title doesn't draw you in….I really don't know what will.  I have been eating recently, although a lot of things are repeats I've made before or too simple to bother photographing (do you really need to see my umpteenth salad again?  Probably not…) but whenever I make a good looking plate I do pull out the camera, and as crazy as my life's been lately, I wanted to do some sharing.  Therefore…let us commence the food porn…
First and foremost is the "Bacon-Cheeseburger" from Just the Food which I elected to oven-bake, and REALLY enjoyed.  These did dry out as they sat, so definitely a burger you want to eat right out of the oven, but still beyond yummy.  Mine were seriously peanut-buttery which may have something to do with the natural ground peanut butter I used, but I'm ok with that, since I'm fairly convinced that everything on earth is better with peanut butter in it.  The recipe says it makes 4 burgers…I made 6 and they were still MONSTROUS….to give you an idea of just how monstrous…that is actual a standard sized burger bun…large even….and the burger dwarfs it.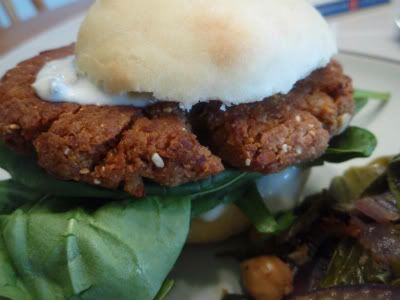 I also made the chickpea picatta from Appetite for Reduction, although instead of putting it over a bed of greens, I mixed some mustard greens into it towards the end of the cooking process.  I found this a bit TOO briney, but that could just be my user error as well, since I didn't measure out capers or anything of the sort…It was ok, but nothing something I could eat a whole lot of at once.  I do have to give credit for a picatta recipe that cooked up in about 5 minutes though.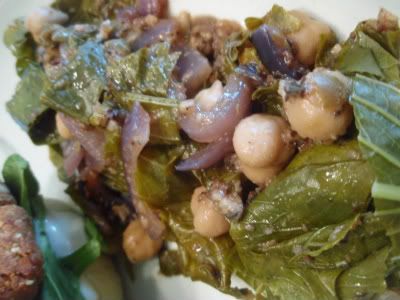 These were truly gorgeous, if not terribly exciting….and that would be Panko coated tofu cutlets for those keeping track.  The real trick to these in my opinion is pressing them beforehand so that they can get nice and chewy during the baking process, and have a way of soaking up the liquid coating you use to stick the breadcrumbs on.  I made a quick and simple sweet n sour sauce to go with these, alongside some carrot and celery sticks…almost looks exactly like a chain restaurant kids meal….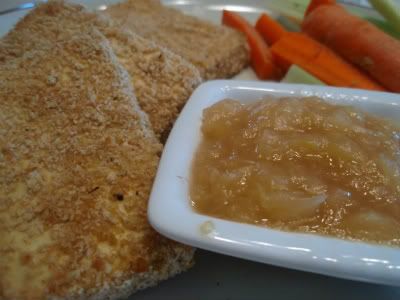 Panko Coated Tofu Cutlets
Ingredients
half block of tofu (not the vacuum wrapped kind) sliced into 4 rectangles.
Approx. 1/4 cup almond milk
1 tsp hot sauce (I used the Korean kind that resembles ketchup
1 tbs dijon mustard
S+P to taste
1 cup panko crumbs
Directions
1. Pre-heat oven to 400F.
2. Place a paper towel on one cookie sheet, and lay down tofu rectangles. Place another paper towel on top, followed by another cookie sheet and a weight (I used my 10inch cast iron skillet—works like a charm) While tofu is pressing, prepare other ingredients.
3. Combine all wet ingredients and S+P on a plate or shallow bowl, and whisk well. Pour out panko onto another plate.
4. Once tofu has pressed for approx. 15 minutes, remove weight and top baking sheet, discard paper towels, and remove tofu. Give the bottom sheet a thin coating of non-stick spray. Dip each tofu rectangle into the milk mixture, making sure to coat all sides. Transfer to the breadcrumbs, again being sure to coat. Repeat with each piece of tofu, then placing them gently on the cookie sheet.
5. Cook tofu for 15 minutes at 400F, on one side, flip (gently!) and repeat on the other. Remove and enjoy with sweet n sour sauce—-recipe to follow.
Quick Sweet n Sour Recipe
1 6 ounce can crushed pineapple
Approx 2 tbs soy sauce
1/4 cup rice vinegar
1/4 cup sugar (or to taste, I generally use a good bit less but my roommate likes more)
Cornstarch slurry of approx. 1 tbs cornstarch and 2 tbs water.
Directions
1. Combine all ingredients except cornstarch slurry and bring to a slow boil. Lower to simmer, and stir in slurry. Continue to stir and simmer until thickened. Enjoy…hot OR cold. Preferably with tofu cutlets
This is a stirfry that isn't vegetarian, but it looked so pretty in the kitchen I had to take a picture.  Those pink and white half circles are an Asian fish product gifted from a friend….I think it's kind of like the Asian version of fish sticks, in that according to the outside of the package it was mostly pollock….but all the same the colors in this dish were just too pretty not to take a picture of, so you'll have to forgive me, I suppose in a way I'm an artist at heart.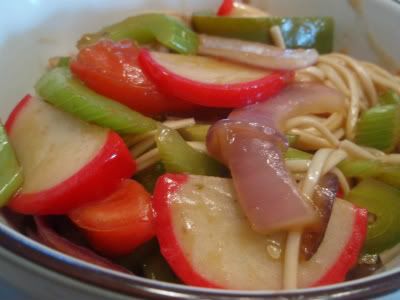 Last but not least, was last night's dinner, which I was IN LOVE with.  I don't know why people always feel the need to make sweet potatoes SWEETER with all the brown sugar and such (although I'll admit to like mine topped with marshmallows (on Thanksgiving ONLY) and this is just further proof that savory sweet potatoes are where it's AT.  I served these up over a simple salad dressed in balsamic, extra virgin olive oil, salt and pink peppercorns.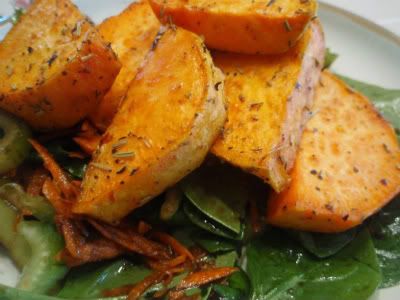 Ingredients
Two large sweet potatoes, peeled, halved the long way and then chopped into half circles approx 1 inch thick.
Several tbs olive oil
1 tbs rosemary
1 tbs green thyme (not the powdered stuff)
S+P to taste
Directions
1. Preheat oven to 350F.
2. In a large bowl, combine oil and spices. Toss in potatoes as you peel and chop, and then combine everything to coat. Turn out onto a greased casserole dish, trying to avoid overlap as much as possible, although a little is fine.
3. Cook for one hour, flipping midway. Remove, and serve!
Happy Eating y'all…and wherever you are, join me in wishing for some summer weather!
Selah.