Food Round-up
The largest meal I make every week is for Sabbath dinner on Friday nights, and generally I don't share it here since I'm not taking pictures after sundown on Friday night.  Much of the meal was not out yet, but I did snap a couple pictures of appetizers this past week, so you can check out some of the food that was enjoyed, minus the hot dishes that were still in the oven.
I've been working with different sourdough starters lately, and it seems I haven't gotten it right yet…the first generation didn't smell remotely sour and produced a pretty, but very bland bread.  This generation smelled extraordinarily sour…but that taste didn't really transfer to the bread, which was also rather heavy and ugly.  I'll keep working at it though…I may eventually find success.  I did serve up this semi-sourdough with some jarred olive tapanade as an app though…which worked out.
I can't recall where I found the recipe for this couscous salad, even though I tried retracing my steps on Google without any real luck.  It is primarily composed of cooked couscous mixed with a vinaigrette of olive oil, vinegar, pomegranate molasses and spices, and then took on a couple handfuls of "tropical medley dried fruit" .  It was good, although a bit on the sour side for couscous, which I like a bit more savory.  Looked real pretty though….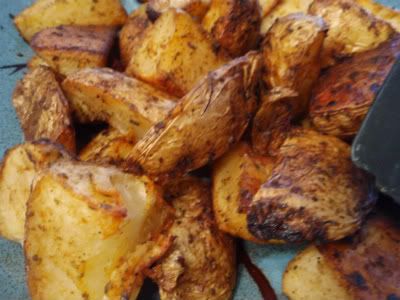 The Cajun potatoes I served up smelled almost as though they were coated in brown sugar, although there was no sugar in the recipe I found.  I replaced the shallots with jarred shallot pepper, and the minced garlic with its powdered counterpart, but these were still DELICIOUS.  Definitely one that will go into the quick and easy recipe vault.
The potato mushroom au grautin was actually the last meal I made during Passover…which looked impressive, but wasn't my favorite flavor-wise.  This was another online recipe I can no longer find, but I'm not particularly attached to forwarding it along anyway, since I didn't love it.  The insides all turned an unsightly shade of grey, and I found the mushrooms really overpowering.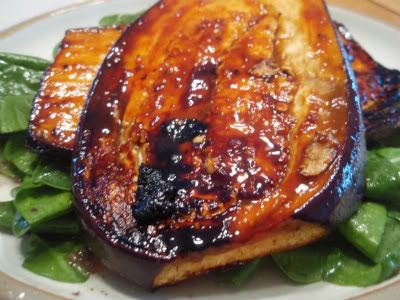 Last but not least, were some eggplant "steaks" which I absolutely loved.  I got the idea from Alton Brown's recipe, but replaced the Worcestershire and Steak sauce with about a 3rd cup of Teriyaki, and eliminated the cheese step altogether.  These baked under my broiler for about 4 minutes on each side, and after removing from the oven, I gave each slice another quick brush with the glaze, just for added flavor.
Selah.