Vegan Passover Kugel
I'm already very much over this whole Passover thing—although I must admit my diet is much more varied then back in the days when I had to survive Passover at a University Cafeteria….8 days of salad and nothing but salad got REAL old.  I was at my parents for the first couple nights and brought a couple Passover cakes I baked with me, but didn't take photos of either before transport and consumption.  Last night back at my own place I made matzoh ball soup (Using a box matzoh ball mix…I know, GASP!) and a Vegan Passover Vegetable Kugel, which I'll share here.  I also used the grater attachment on the food proccesor for the first time ever, without which this would have taken forever to assemble.  I discovered that the grater attachment works better on some things than others, but didn't mind a few chunks in my kugel, so I let it slide.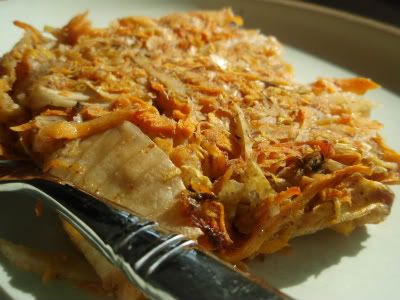 Ingredients
1 yellow squash (the kind that look like zucchini…not spaghetti)
2 carrots
2 potatoes (I used one russet, one sweet)
1 onion
3 garlic cloves
1 cup ground flax/water mixture, approx 1/4 flax.
pinch sugar
3 tablespoons matzo meal
1 tsp paprika
1 tsp thyme
1 tsp dried basil
salt and pepper to taste
4 tablespoons oil
Directions
1. Preheat oven to 350 degrees Fahrenheit. Use part of the oil to grease two 8×8 casserole dishes.
2. In a food processor, coarsely grate squash, carrots, potatoes, onion, and chopped garlic.
3. In a bowl, combine the grated vegetables with the spices, flax mixture and oil.
4. Pour the vegetable mixture into the greased casserole dish. Bake for 50 minutes on the top rack, or until the vegetables are tender and the top of the kugel is browned.
It's also really good with ketchup…all of which is Passover friendly in my house already since I don't buy the kind with corn syrup…  Happy Holiday Everyone, whichever one you celebrate!
Selah.