Sesame Orange Tempeh over Couscous
I'm still of the belief that if I combine couscous with Asian flavors, it is an Asian ingredient…as long as no one tells the Japanese or the Moroccans about it, I suppose I'm safe.  You may not want to tell the Chinese either, now that I think about it.  I was making a friend's recipe for tempeh (which I'll share momentarily, cause it's delicious (or yumo! as Rachael Ray would say)) and since it involved some Asian flavors, I decided the base should as well, but I was craving couscous.  Actually I've been craving nothing but carbs all week,which has a lot to do with the fact that Passover is coming back, and it will seem like the blink of an eye before I am completely carbohydrate denied and miserable about it.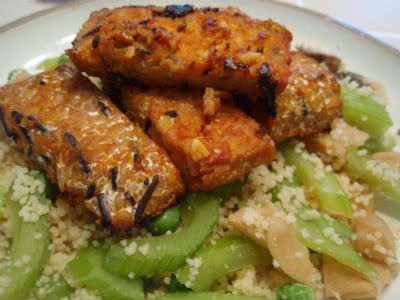 The couscous was cooked in water with an added tablespoon of soy sauce and a bit of szechuan oil, and then sliced celery, mushrooms, peas, and pickled radish were added in.  I tossed everything together in a wok to heat through and make sure the soy sauce was distributed evenly.  This was also my first time using the wild rice tempeh, which my roommate picked out.  It looked cool….but pretty much tastes exactly the same as every other tempeh….I never could tell the difference between the various "flavors".  The recipe, which I have to credit to my friend Liat, is as follows:
Ingredients
1 block tempeh
2 minced garlic cloves
1 tsp minced ginger
1 tsp red pepper flakes
1 tsp asian chili sauce
1 tsp honey
2 tsp sesame oil
4 Tbsp soy sauce
1/8 cup orange juice and zest
Directions
1. Combine all ingredients except tempeh in a large casserole dish and whisk to combine. Slice tempeh into halves, then slice each piece down the center width-wise, and once more, into thin rectangles.
2. Marinate tempeh in the casserole for up to 3 hours in the refrigerator. When ready to bake, pre-heat oven to 375F. Bake tempeh for 12 minutes on one side, flip, and bake for another 12 minutes. Remove and let cool briefly before eating. I like my tempeh still hot!
Serve it up over anything you'd like….I wouldn't go with couscous if you fancy yourself traditional, but if you're a rebel like me…do it up!  (I think the pickled radish is the best part, so if you can find some at your local Asian market, go for it!
Selah.