Machos and Gomen…there's a joke there, but I'll leave it to you…
Machos is the incredibly creative name I came up with for Nachos that are made with broken up matzoh instead of chips, which are pretty good…but perhaps not quite as awesome as their name.  I'm so glad it worked out to be Machos…adds a little manliness to the Passover holiday I think…which thankfully is almost over.  Oddly enough, I think I'm missing tofu more then pasta this year…although perhaps both equally.  Anyway, on to the beautiful Machos, pictured here before they went into the oven:
I broke up a couple sheets of Matzoh by hand, and then topped with pretty much everything I could find (although unfortunately I had to skip the re-fried beans, which are not allowed during the holiday)  If you're not doing a nut based cheese or the dairy kind you probably need to skip it this time around, since soy is out on Passover.  But there are so many other things…in my case, mango salsa, pickled jalapenos, guacamole, olives, mushrooms, and baby spinach….YUM!  Pretty sure this is my favorite Passover food ever…
Something else that went well, but full disclosure was NOT Vegan is the Gomen, which are Ethiopian style stewed collared greens.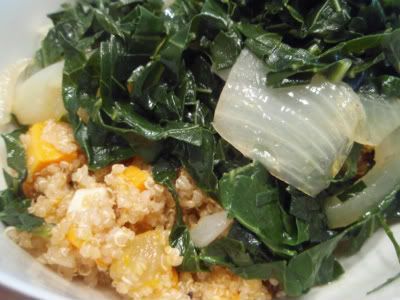 These were served up over a quinoa dish I made earlier in the week and have forgotten the recipe for, and they came from the African Kitchen.  I actually decided to make the berbere and the Niter Kibbeh from the same page, and cooked up the collards and onions in a combination of those two.  SOOOOO good….but probably mostly because they tasted like butter, if I'm being perfectly honest….
Selah.