Fried Rice Filled Crepes
This is what happens when I cook things and don't post about them for awhile….I forget what was in them…and with all the leftovers gone, I can't exactly go look.  This is a bit of a misnomer, since I used non-stick cooking spray instead of oil, and the rice isn't actually "fried" but I'm still doing that "diet thing".  It is working though…I've been doing longer, more intense workouts and feeling good, and I'm down almost 7 pounds from about a month ago.  As that train wreck we're pretty much all over would say, DUH WINNING.
I do remember there being a large assortment of veggies in this, and the crepes were made with almond milk…which I've decided is not a great choice from crepe making, since they ended up fairly soft and anemic looking.  Oh well.  They didn't taste all that bad…but they weren't going to win any beauty contests.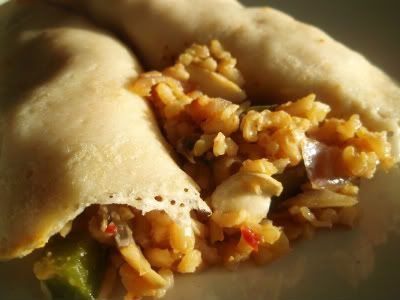 I do remember putting lots of Sambal Olek in the rice, so it had a nice zing to it…otherwise you'd probably want some sort of sauce on top.  But this worked…who ever would have thunk to match together French and Asian cousine…although if you think about it, I guess it really is a lot like a mooshoo pancake….
I promise to post sooner next time, so that I actually remember what's in the food and I can give out a recipe, but things have been crazy around here.  I've got some very exciting life news to share….although I don't want to give away all the details yet.  Suffice it to say that me (and this blog) will be coming to you from a totally new locale at some point not so far in the future….think overseas!
Selah.