Eggplant Dengaku and Quinoaaaaaa
We're coming into quinoa season, I can tell.  Not that quinoa isn't widely available year round and pretty much impervious to weather changes, but my quinoa season happens soon…real soon.  It's called Passover, and as an Ashkenazi Jew and Vegetarian, it's pretty much the only thing resembling a grain or protein that I can eat.  There are no beans (including soy) allowed, no wheat products (that includes gluten) no rice, no pasta…well you get it.  So I eat a WHOLE LOT of quinoa.  The recipe I made for dinner yesterday was a build-up I suppose to the passover season, as I check out new quinoa recipes and see what I like and what I don't.  This one was ok, nothing to write home about, but filling and flavorful on the whole.  I started with a recipe I found on livestrong.com and messed with it a bit to create my own result.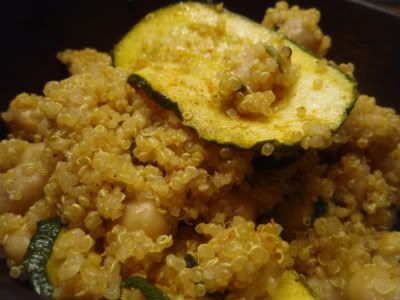 This is low calorie and filling, so great for the diet, but I was looking for something a bit….more…here.  I'll share what I did, feel free to improve upon it.
Ingredients
1 15.5 ounce can garbanzo beans
3 tbs lemon juice
1 tbs olive oil
2 garlic cloves
2 tsp ground cumin
1 tsp paprika
2 cups water
1 cup qinoa
1 tsp salt
1 large zucchini
1 cup baby spinach, sliced
Directions
1. Preheat oven to 375F. Drain garbanzo beans and combine them in a bowl with olive oil and minced garlic. Place in the fridge to marinate while preparing the other ingredients.
2. Spray a medium skillet with non-stick oil, and then add cumin, turmeric, and paprika, giving them a few seconds to become fragrant. Add water, quinoa and salt, stirring to combine. Once water reaches a simmer, cover and turn heat down to low, cooking until all the liquid is absorbed.
3. Cut zucchini into ovals on a bias. Place in a glass casserole dish sprayed with oil. spray another coat of oil on top of the zucchini, and then add more cumin, turmeric and paprika. Toss to coat. Bake for 20 minutes, checking to make sure they aren't burning.
4. Combine all ingredients, including garbanzos and spinach, putting in zucchini last so it doesn't get torn up too much. Enjoy…the original recipe said to serve this cold, but I actually preferred it warm…so I guess that's a person preference thing, do whatever floats your boat!
Another Appetite for Reduction recipe I tried was the Eggplant Dengaku, which I really loved, although I do have one technique  suggestion to make.  The recipe has you pour the sauce over the eggplant slices and then use a spoon to spread things out a little.  I had the forethought to pull out a pastry brush, and brush the glaze onto each slice evenly.  I simply continued until all the glaze was used up, which took about two coats on each peice of eggplant.  YUMMY!  Another winner….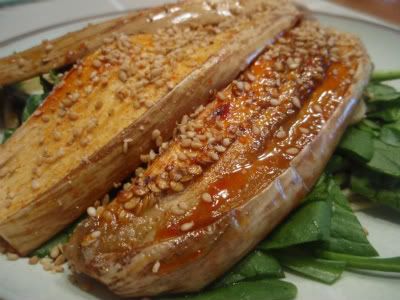 I've got one more thing for you today before I sign off.   As of yesterday, Ricki Heller's e-book "Good Morning!  Breakfasts without Gluten, Sugar, Eggs or Dairy" finally became available!  If you remember, I was testing lots of recipes for the book a while back, including these delicious socca roll-ups with sweet potato spread, and now you can get the book and try all the awesome treats for yourself!!!  It's available through Ricki's website, Diet, Dessert and Dogs…and hey, why are you still here????  Get over there and get the book!  (You can thank me later…)
Selah.