Carbs, Carbs and more Carbs
It is interesting that I made lots of fun-looking salads and such this week….but all I remembered to take pictures of were carbs.  Must be my mindset as we count down to Passover…the things I'm really holding on to for prosperity are full of flour.
First off, with a vegetable I don't buy often, was a leek-celery pasta dish with Almond White Sauce.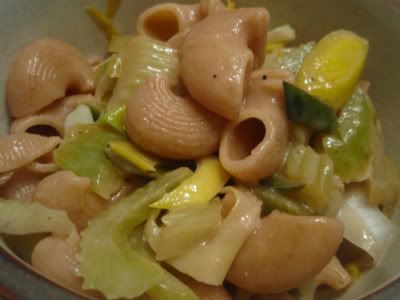 You're looking at whole wheat chiccole? pasta with sauteed leeks and celery, in a classic almond-milk white sauce, using oil instead of butter for the starting roux.   It was flavored up with some dried jalapeno, S+P, and nutmeg, since I believe some fresh nutmeg always belongs in a white sauce…..It was good…although nothing to write home about in the grand scheme of pasta dishes.  I may feel differently about such things in another 8 days though, when ANYTHING with carbohydrates in it will look like manna sent from heaven.
Then there was this rice dish I made because I had papaya in the fridge and no clue what to do with it.  I more or less followed the recipe found here, omitting the cilantro cause..ewww, and replacing the red bell with green, since it was what I had on hand.  I found this recipe seriously deficient in salt, even though I ignored its omission in the ingredients and added some regardless.
I also used much less rice then called for, choosing to up the papaya/bean/veggie content instead, and keep the grains to something of a minimum.  Still, if this is a recipe you are going to make, I would highly suggest integrating some salt, or perhaps cooking the rice in a stock base….with a decent amount of sodium.
Selah.