Vegetarian Hot Pot and Cosmo "Meatballs"
So my new obsession is the recipe sidebar option on google as of last week, where you can enter ingredients in the search bar (as I've been doing for years) and then select the ingredients you don't want included on the side, the time you're willing to spend cooking, and even the number of calories if that concerns you.  So here it is, another  googled recipe based on what was left in the fridge at the end of the week:
It's a pretty standard Vegetarian hot pot, pretty good, but nothing to write home about.  I added a splash of siracha to get things moving, and used soba noodles.  I actually liked the leftovers better, once they'd soaked up all the liquid and had become a flavorful pasta dish as opposed to a soup.  I only had full-sized bok choy in the fridge, but I think this would've been a bit lighter and less bitter with baby bok choy if you had it on hand…
And then there was spaghetti and meatballs.  Just a warning, these aren't Vegan, I did throw in an egg as called for in the recipe.  You could replace it with Ener-G or a flax mixture would probably work here as well, but I was going for dinner in under 10 minutes.  My new issue of Cosmo showed up on Sturday (yup, I've had that subscription for about 6 years and counting…even though every issue is pretty much identical) and always want to try the recipes even though the vast majority of them aren't veggie friendly.  This one was for turkey meatballs, but I figured I could replace the ground turkey with a couple of well-chopped Vegan Morningstar farms burgers.  (Turns out I was right!)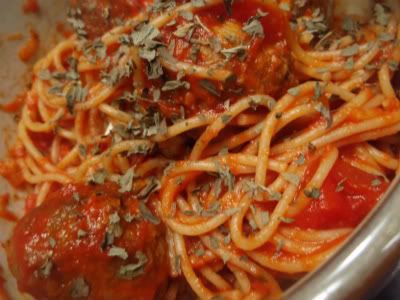 I took out the dairy as well…so I'll post the recipe I ended up making, cause there's nothing like some good ole "meat"balls on a Saturday night.  I didn't bother with their spaghetti sauce, because at the moment I've got a cupboard full of Newman's Own variety's provided me by Foodbuzz.
Ingredients
1/3 cup Italian bread crumbs
2 tbs almond milk
4 Veggie Burgers, well-chopped
1/2 cup nooch
1 tbs onion powder
1 tbs garlic powder
1 egg, beaten (or alternative)
6 basil leaves chopped
1/2 tsp kosher salt
1/2 tsp black pepper
pinch red pepper flakes
Directions
1. Combine all ingredients into a bowl, and then gently roll into small golf-ball sized "meat"balls. I got 12 from this recipe. refrigerate for at least ten minutes to firm up a bit. In the meantime, pour 2 tbs olive oil in a frying pan over medium heat.
2. Brown meatballs on all sides in the oil and place on paper towel. Simmer sauce in a separate pot and add meatballs with about 5 minutes to go so they can soak up flavor and heat through evenly.
3. The meatballs are a bit fragile, so I served them into bowls before adding pasta to sauce and combining. Yum.
I sprinkled some dried basil on top even though the fresh version is already in the meatballs, that's just a thing I do…cause you know, I'm basil happy.
Selah.