Salads out of Appetite for Reduction
If I knew salads could taste this good, I probably would've been on a "diet" for the last 3 years.  The everyday quinoa salad (which I think might be the first recipe in Appetite for Reduction) was VERY good, and super filling, although I'm not sure I'd want to eat it EVERY DAY, the amount of balsamic might start to give my heart burn after one time too many.   It's a quick, delicious dinner though…I was thinking in my normal salad mindset and spooned out a full bowl for myself, but this was so filling, I could barely get through half, and I stayed full until breakfast the next morning, even with a post dinner yoga class.  Win.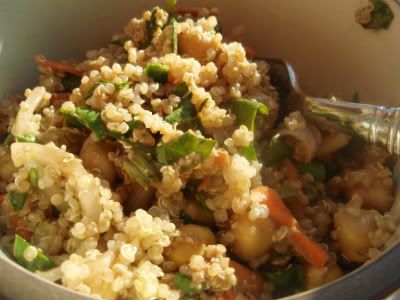 The next night I decided to make the Sanctuary Salad from the book, with a couple changes.  I didn't have eggplant so I simply skipped that step, replaced romaine lettuce with baby spinach, and red onion with white since that was what I had on hand.  I also got to use purple cauliflower instead of white, which just brought the look of this to a whole new level…so pretty!  I didn't have any silken tofu so I simply skipped it in the dressing and added a bit of extra nayo instead.  It was really good and creamy as it was…I don't know that I'd want to add an entire block of tofu to this, it doesn't need it…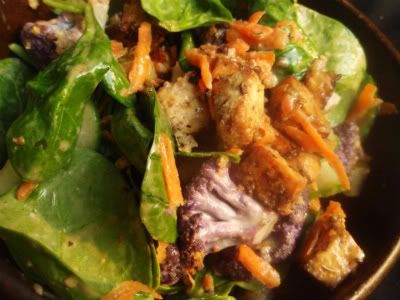 Those look like croutons up on top of the salad, but that's actually the tofu…I got it good and toasty, and it was amazing.  I had the last remaining serving wrapped up in a whole wheat tortilla for lunch today, and it was still good…not many dressed salads pass the second day test in my opinion, but this one did.
Selah.