Runzas and Pad Thai (Again)
A couple weeks ago I'd never heard of a runza.  It's too bad really, because MAN are these things good.  I got the recipe off the PPK blog where basically everything involved sauerkraut lately, and instead of seitan, used the chick'n strips I got with my coupons from Lightlife.  I gave the chick'n a quick chop and then treated it as I would the seitan called for, and I was really in love with the meaty texture they gave these.  I like making my own seitan every so often, but for convenience and texture, I would definitely use these again.  Especially in Runzas.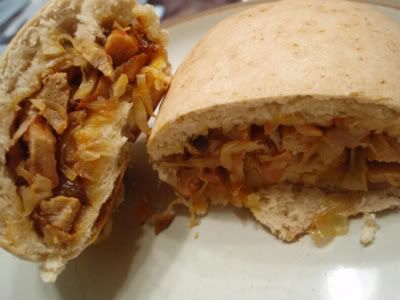 Pad Thai is something I do a lot, although I suppose technically…this isn't.  It's the Brooklyn Pad Thai recipe from VwaV again, although this time I managed to not overdo it with the tamarind concentrate.  I also didn't have any peanuts to include, which is why it's not real pad thai….but still yummy.  And this time I even had the right noodles…
And that's the week thus far….I made the salt and vinegar potatoes from this month's Vegetarian Times as well for anyone whose got the issue and was considering it.  They were ok…a bit too vinegary for me, but then I don't love the chips either, so I'm not sure what I was expecting.
Selah.