Curry Laksa
So I'm still working my way through Appetite for Reduction, which is doing well for me..I've had lots of yummy food, and the pants I bought a little too small a couple weeks ago now fit rather nicely.  I've also been upping my workouts a bit…running farther and faster, not letting my mind tell me to give up on the 2 minute plank in yoga…and today I tried spinning for the first time.  LOVE IT!!!!!  (Any workout where I'm bummed because I'm a little too out of breath to sing along to "Save a Horse, Ride a Cowboy" is a GREAT workout).
I decided to make the Curry Laksa from the book, the other night, but instead of including the tofu in the curry, I did something a little different and made a riff off the recipe for Red Thai Tofu in the book, and spooned that over the curry.  (Alright fine, I also replaced the box choy with baby spinach and red pepper with green…simply because that's what I had on hand this week).  But check out the result: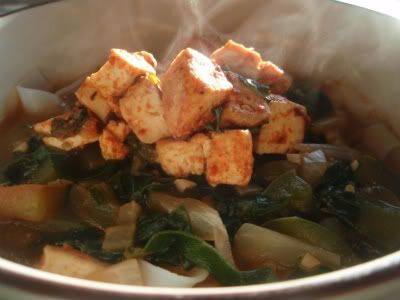 Yup, that was still steaming away when I snapped the picture, and it's a good thing I did, because it didn't last long after that.  Once I dug in, this bowl vanished fast, and boy was it filling.  Oh one more truth I need to come out with…I did use light coconut milk…I'm sure that made it less creamy then intended, but I still loved the flavor and saved myself a whole bunch of fat, so say what you will, I stand by my choice.
And now on to the tofu….
Ingredients
1/2 block of tofu, cubed
1 tsp shallot pepper (I get it at Penzey's)
1 tsp garlic powder
1 tsp powdered ginger
1 tsp red curry paste
1/4 cup water
1 tbs Braggs Liquid Aminos
1 squirt light agave
8-10 leaves genovese basil, shredded
Directions
1. Preheat a medium skillet over med/high heat, and spray with PAM. Add curry paste and spices, reserving just Braggs, Water, Agave, and basil. Toast for about 30 seconds before adding tofu.
2. Spread tofu into a single layer, and press with spatula while cooking to squeeze out excess liquid. Once one side is golden, flip and cook the other.
3. Add braggs, agave and water, tossing to coat. Basil goes in last, and everything cooks just long enough for the basil to wilt and all liquid to cook off/soak into tofu.
4. Do something wonderful with it, like topping your curry laksa!
There were lots of good things about this, but my absolute favorite was how it made my entire apartment smell like a good thai restaurant during the dinner rush….heady, aromatic, and mouth-watering, but not fill of loud obnoxious people whose culinary limits come to a screeching halt after pad thai and chicken satay.
Selah.