Blackened Tofu and Kale over Saffron Rice
I've tried blackened tofu before, but found it rather dry and bland…so I'd thought perhaps you need to toast the spices first or something along those lines…turns out I was just using the wrong recipe.  I gave the blackened tofu from Appetite for Reduction last week, and was amazed at just how flavorful and delicious it was…not to mention how photogenic.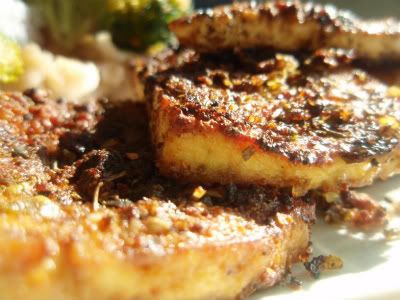 I had this along side the leftover caulipots, so that there was a milder flavor to combine with each bite of tofu…which was seriously spicy.  I definitely recommend this recipe if you were eying it and haven't given it a try yet…I would also recommend cutting nice thin slices of tofu that'll crisp up, which is what I did, and I couldn't be happier with my choice…I don't know if I would have loved this quite enough if it wasn't so chewy and succulent.
I also cooked up some kale over rice this week….kale is something I like to try and get into my diet as often as possible, just because it's such a nutritional powerhouse!  Everything you could possible want seems to be in kale, so there's really no bad here.  I always make my kale similiar to this recipe that I created some time ago, with slight deviations.  I've learned pre-boiling the kale isn't at all neccesary if you cut it small enough, so I eliminate that step.  This time around, I also replaced the Bac-uns with sliced mushrooms, for a little extra savory flavor.  Yum!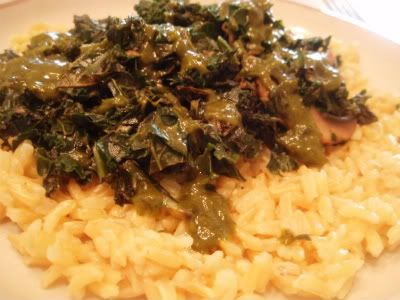 This was served up over some saffron brown rice (brown rice cooked with a pinch of saffron added to the water…primarily for color) and topped with a generous squirting of green dressing….pretty much the best stuff on earth.  As far as the oil break-up in the dressing, I generally go with 2/3 cup olive oil, and 1/3 cup sesame.  Yummy!!!  Oh man is this "diet" delicious!
Selah