The Passionate Vegetarian Returns
I decided to pull out a cookbook I hadn't used in awhile (or if I'm honest, much at all) yesterday and see what I could scrounge up based on what was in the fridge.
First off, I gave the 'Spicy Eggplant with Buckwheat Noodles' a shot, which sounded pretty good…but totally didn't do it for me.  For starters, there's raw, blended garlic in here, and all I could taste when I ate the dish, was raw garlic.  Maybe that's something you enjoy…me?  I like my garlic cooked.  It looked pretty though: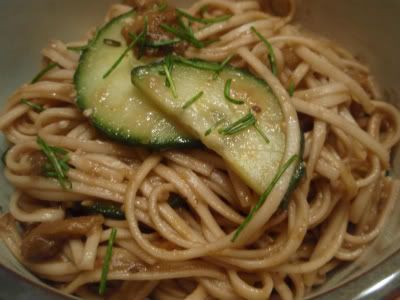 I'd also have to admit that mixing raw cucumber with hot pasta didn't thrill me either, it was ok as first, but as soon as the cucumber warmed up a bit its texture got borderline slimy and simply unappealing, not something you want as leftovers.  So this wasn't a winner, but what about the other recipe I tried?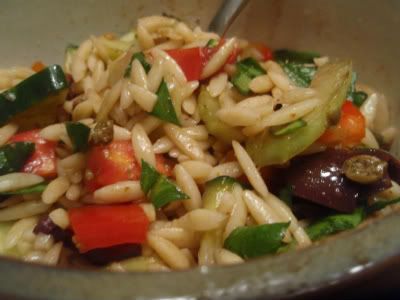 Parky's Pepper Mill Pasta Salad a L'Italia has a ridiculously long name…but it's pretty decent for a pasta salad.  There was nothing terribly groundbreaking in here, but nothing offensive either (like RAW GARLIC).  I eliminated the Mayo from the recipe, making this a fat free dish, but still pretty flavorful.  I noticed the pasta soaked up a lot of the flavor and I added S+P before eating, but otherwise, no complaints to speak of.  This would be great to bring to a BBQ once it's actually warm out again…it's quick and easy to make as well…
And so thus goes my adventures in The Passionate Vegetarian…more to come…
Selah.