Superbowl Snacks!!!!
Just wanted to share a picture of our GameDay Spread.  I just watched the game with a couple close friends, but we made sure we were totally entrenched in snacks….not to mention beer, but I didn't bother taking a picture of that…..
Oh and I'd picked the Packers on the day (Since my Pats bowed out not-so-gracefully a couple weeks ago) so um…Go Team!  Yay Win!  Alright, now that that's out of the way, check out the eats: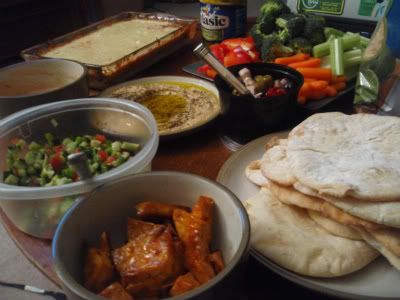 I made the pitas and hummus from scratch, buffalo tofu (ie.  oven baked tofu tossed with hot sauce and Earth Balance), and Israeli salad.  We also had a massive crudite platter with homemade Thousand Island (so a mixture of Nayo, Ketchup and Relish…but without the copyright), some olive bar, dill pickle spears, Hint of Lime Chips (Now with all natural ingredients!!!!) and my roommate's infamous 5 layer dip.  Because only the overachievers make 7
>   Yum.
Now is it just me, or are the commercials getting way over done?  Remember people, there's nothing like a good joke…even millions of dollars worth of cgi can't beat a classic.  My favorite?  The third Pepsi Max commercial where the couple are having dinner and the whole thing is subtext, with him wondering if she's denying him her pepsi max or getting lucky.  I still don't buy soda…but props on the ad.  The Groupon ones were fun too.  Anyone else got favorites?
I'm also still testing recipes for Diet, Dessert and Dogs…these were coconut pancakes:
Selah.