Playing on the PPK and Gifts from Lightlife!
I forget to check out the PPK blog from for long stretches at a time…I'm not sure why, because whenever I get over there I seem to want to make every single recipe I've missed right away…and then I manage to completely forget about its amazingness for another three months.  Oh well….it's nice to have so many pleasant surprises at once I suppose.  As soon as I saw the mac n shews, I knew I needed to try it.  I went out and purchased a massive BJs sized jar of sauerkraut (It can't hurt since the stuff is already fermented it never goes bad, and I knew that meant I could make the mouth-watering reubens from VwaV as well).  The only thing I forgot (amazing since it's in the title) was the cashews.  Oh well, I had a jar of macadamia nuts and decided that would work just fine as a replacement.  I wasn't totally right…macadamia just don't blend as smoothly as cashews do, so I had a teeny bit of grit going on, but the flavor in this was AMAZING.  And if I hadn't been the one that made it, I wouldn't have known it was kraut.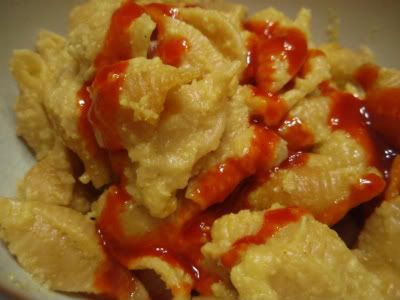 My serving is pictures here gussied up with my favorite hot sauce from Korea…it's sort of a cross between Franks Red Hot and ketchup…but so much better.  And I have a new favorite Mac n Cheeze recipe….I can only imagine it would be even more amazing with the right nuts.  (But don't worry, it was enjoyed by the right nut
Since actual carrot cake is a specialty of my roommates', I left it to her to whip up Isa's Carrot Cake Pancakes.  Minus some personal problems with our resident food processor, she must have done an amazing job…cause we certainly gobbled these up.  We had ours with some maple-creamcheese frosting I whipped up…and while I'm not generally a dessert for breakfast sort of person, I REALLY liked these.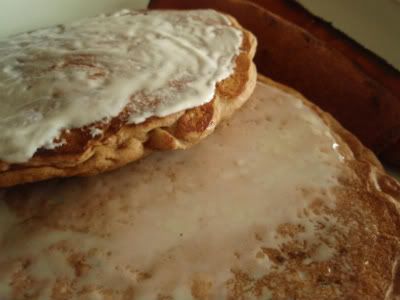 They're pretty hard to see hiding in the background there, but that's some of the Lightlife Smart Bacon, which I'd never tried before.  I have to say simply from an aesthetic stand point that I was really disappointed these didn't get all curly like the ones pictured on the box, but I suppose you can't have it all in life.  I don't really know what actual Bacon is supposed to taste like, but my roommate tells me these have a SLIGHTLY bacon-ey flavor, although the texture isn't terribly reminiscent at all.
I got to try these though, because I was contacted by Lightlife products (whose tempeh I've been enjoying for years!) giving me the opportunity to try out some of their products free this month.  I went with the Smart Bacon simply because I'd always been curious about it and had never tried it.  I also got a block of soy tempeh which was enjoyed in tempeh reubens (sadly consumed too fast for pictures) and some of their cH'KN style strips which I used in place of tempeh in Isa's Runza recipe.  I'll be having the runza's for dinner later on, so I'll have to report back on how that goes…
Hope everyone on the east coast is enjoying this move towards spring we're making…I'll take rain instead of snow any day!
Selah.