Pan-fried Kale and Brown Rice Pilaf
I can't be the only person who sometimes gets cravings for that Near East brand rice pilaf mix…it's definitely white rice, full of sodium…and with that little packet of orzo noodles and "spice mix" so darn…cravable.  This time around, instead of giving in to the powers of the box, I decided to make my own, and while it looked and even smelled like the real thing…it wasn't really.  Good as rice goes, but I'd be lying if I said it totally hit the spot.  Perhaps I should put all the dry ingredients in a box next time and pour them out into the water.  As a healthy alternative and flavorful rice dish it IS good though, so here's the recipe:
Ingredients
1/2 cup long grain brown rice
3/4 cup vegetable stock
1/2 cup water
2 tsp olive oil
1 tsp onion powder
2 tbs dry orzo
Sprinkle turmeric for color
S+P to taste
Directions
1. heat oil over medium heat in a saucepan. Add rice and orzo, stirring to coat. Once things start to smell a bit toasty, add spices and water. Bring to a boil, and than lower to a simmer, covering. Cook until all liquid has absorbed. Use a fork to fluff.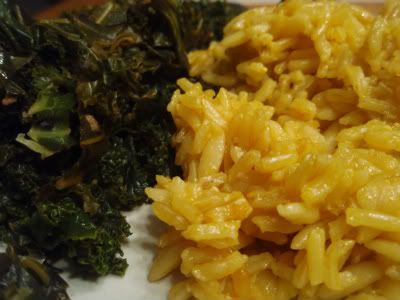 The kale was sauteed in some earth balance and then got to soak up a nice amount of cooking sherry, salt, pepper, and a handful of sliced button mushrooms.  Nothing out of this world, but nice and filling, and kale is SOOOO good for you, I need to sneak it into the menu every-so-often.  I also added my last couple drops of umeboshi vinegar for a bit of a tang.  I wish I'd had more…
Selah.