Greek Baked Ziti
Every so often I have to go back to my girl Rachael Ray, and see what she's cooking up in the kitchen.  I was craving some pasta last night, and when I think happy, tummy-warming pasta casseroles, I often think about my girl Rachael, and I headed over to her website to see what she'd been cooking up lately.  I found a recipe for Greek-Based ziti that was calling to me, and although it called for lamb meat, milk, and cheese, I knew I could keep the original ethnic intentions and make something Vegan and delicious.  I was right, I seem to have a new pasta dish every week, and this continues in that tradition, since I just couldn't seem to get enough, and my mouth is watering thinking of the leftovers.  I made it into a very "pantry friendly" dish, using a lot of dry spices, and (sadly) no fresh produce.  But that just means you can do this at the end of the grocery week like I did and still feel like you've had a very satisfying meal.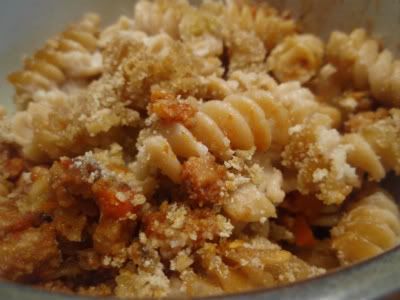 I'd made a batch of the seitan from Appetite for Reduction earlier in the week, and chopped that up nice and fine in place of the lamb called for.  I'm sure crumbled tofu, tempeh, TVP etc would all work in this as well, and I could've gone in any direction depending on what was on hand, but in this case, I had the seitan.  That said, you can find Rachael's recipe here and my Vegan version below.
Ingredients
Salt
1 pound whole wheat rotini (or pasta of choice)
2 tablespoons EVOO – Extra Virgin Olive Oil
1 pound finely chopped seitan
1 tbs granulated onion
1 tsp granulated garlic
1 carrot, peeled and diced
1 tsp dried thyme
2 pinches ground cinnamon
1 teaspoon allspice
Ground black pepper
1 15-ounce can or jar tomato sauce
6 tablespoons earth balance
4 tablespoons rice flour
3 cups almond milk
A few grates fresh nutmeg (or 1 tsp ground)
1/4 cup Nooch (Nutritional Yeast)
1/2 cup Italian flavor bread crumbs
Directions
1. Preheat oven to 375ºF. Place a large pot of water over high heat to cook the pasta. When the water is at a rolling boil, add some salt and the pasta. Cook to al dente according to package directions and drain.
2. Place a medium pot over medium-high heat with olive oil. Add the seitan (or protein of choice) to the pot and cook until golden brown, 4-5 minutes.
3. Add all of the spices and continue to cook until aromatic. Add tomato sauce and simmer until thick and uniform.
5. While the seitan is simmering, add earth balance to the vacated pasta pot over medium heat. When melted, sprinkle in the flour and cook for about 1 minute. Whisk the almond milk and nutmeg into the butter-flour mixture, and season with salt and pepper. Simmer until thickened, 3-5 minutes. Remove the pot from the heat and stir in nooch.
6. Toss the cooked pasta with the white sauce. Transfer half of the pasta to a casserole dish and ladle the seitan/sauce mixture over the top. Cover the red sauce with the remaining pasta and white sauce. Sprinkle the breadcrumbs on top, and add a sprinkling of olive oil so that they will turn golden-brown in the oven.
7. Bake casserole for 30 minutes, and allow to cool for at least a couple before serving…try not to have seconds…I dare you!
Mmmmmm…so good!
Selah.