Cornbread Dressing?
I'm told something can only be called a stuffing if it's inside of something else, so apparently a combination of bread and binders in a casserole dish is either a pudding or a dressing…I'm not entirely certain what the difference is there either, but we'll go with it…and call this a dressing….up.  This is one of those times where I did use eggs, so not a Vegan recipe….you'll want to skip this one or think of setting it up with egg replacers if you stick to a Vegan diet.
I've had tons of these cornbread "loaves" in my fridge lately, thanks to a couple coupons for picking them up free at BJs in the recent past, and after eating about as many of them plain as I could handle, I decided I might try something new on the cornbread front, and combine them with some veggies and liquid.  We were actually completely out of vegetable stock, which is generally what I would use in a stuffing, but I made do, and I actually think this came out pretty well…I certainly didn't miss the stock…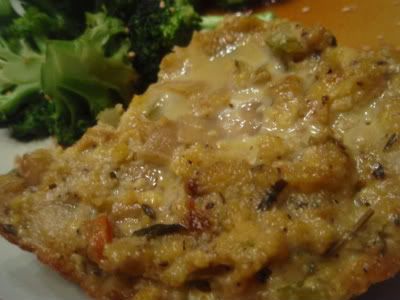 Ingredients
Approx. 2 cups crumbled prepared corn bread
2 carrots, diced small
2 stalks celery, also diced small
one small yellow onion, diced
1 tbs dried sage
1 tsp garlic powder
1 tsp dried tarragon
S+P to taste
1/2 cup cooking sherry or white wine of choice
2 tsp olive oil
3 eggs
Directions
1. preheat oven to 375. In a large skillet (I used cast iron) heat the oil. Add onions, carrots and celery, and cook 5-7 minutes until onions are translucent. Add spices and cornbread, mixing to cook evenly. When things start to look dry, pour in the wine, a bit at a time. Taste, and add salt and pepper to your satisfaction.
2. Spray a 5×7 casserole dish. In a large bowl, mix the eggs. Pour the bread and vegetable mixture into the eggs and stir quickly to combine before eggs get "scrambled". Pour mixture into the casserole dish and use a spatula to even out the top a bit. Cover with foil and bake for 25 minutes. Remove foil, bake another 10.
3. Let cool for at least 5 minutes to solidify a bit, then serve!
In this case I was using a prepared cornbread that has quite a bit of sugar in it, so my stuffing ended up fairly sweet, how far over on the sweet/savory scale you are, will depend on what cornbread recipe you use…This certainly wouldn't be bad with some gravy….maybe a nice mushroom rendition…
Selah.