Adventures in Appetite for Reduction
I've been hearing all these great things about the Arabian Lentil and Rice Soup from Appetite for Reduction.   I also thought it would go really well with the sweet potato drop biscuits from the same book.  I replaced the lentils in the soup with fava beans (because I just can't bring myself to want anything to do with lentils as a rule) and they worked out great, but I was meh on the soup if I'm being honest.  I added a bit of spinach for green, but it just wasn't my thing in terms of flavor profile.  I like the little shot of lemony goodness but that's the only thing in here that really excites me.  What I WAS a fan of, was the sweet potato drop biscuits…which weren't the prettiest thing on earth, but worked out really well crumbled up in the soup…the only really redeeming characteristic of this for me.  Nothing again all those people out there loving this…it's just not my thing.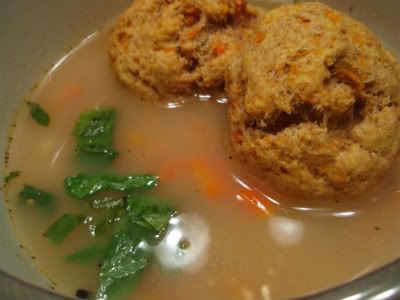 Next up I tried the baked falafel and mushroom tibs from the book.  I was really suspicious of baked falafel to begin with…there's nothing wrong with trying to make good foods healthy, but with my Israeli blood, I know that falafel are fried for a reason, and I was dubious that these would be anywhere near as satisfying as the traditional preparation, and I have to say I was right. The flavors for falafel were there, but the texture was all wrong in my opinion.  A bit chalky, way too dry, and just not fulfilling the way deep-fried falafel balls are.  Somethings will never become health food for me, and that's ok.  The mushroom tibs I liked better…I used a combination of button mushrooms and reconstituted wood ears for these since that was what I had on hand, and it worked out great.  I love the Ethiopian spices on this, and the meaty texture of the mushrooms actually goes well on a nice bed of baby spinach greens.  I think they'd be good with some FRIED falafel balls as well…sorry for being a hater, I just can't help myself.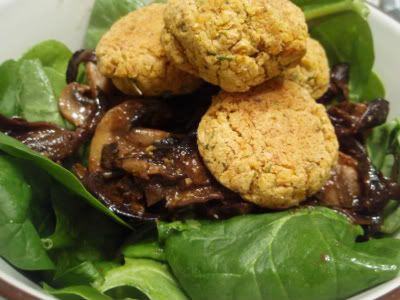 What I DID really like, were the black bean, olive and zucchini tacos.  I didn't have any corn tortillas, but served these up in homemade 100% whole wheat tortillas I made using the recipe from Viva Vegan.  I do think the olives were what really pulled these together…I used black olives instead of kalamatas, and really liked the lightness of them with the black beans and zucchini.  I think if I'd used kalamatas there would have been a bit too much of a briney flavor.  But that's just me…I can never do anything the way I'm supposed to.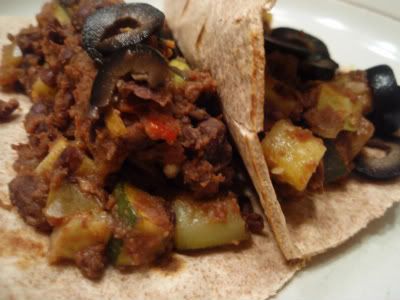 And that was this week in Appetite for Reduction.  I'm still playing with the cookbook…figuring out what I like and what I don't.  I've always been an Isa fan and will continue to be, although I don't normally seek out diet food.  I'm more of the mind that if you work hard in the gym, and are somewhat cognizant of your serving size, you can eat the good stuff.  All the time.  And some of the stuff in this book IS the good stuff, others I'm not as keen on.
Selah.