Tamarind BBQ Tempeh and Sweet Potatoes and Ginger Bok Choy and Soba
These were two nights of dinner, and we went 50/50 in terms of success.  Both meals were from Appetite for Reduction which I'm still playing with, and while it hasn't had any abject failures yet, some things just taste more like diet food than others.  The Ginger Bok Choy Soba was simply lacking…there was nothing wrong with it, but nothing to remember either.  The recipe could have used some acid and a protein of some sort.  It won't be something I return to any time soon.  And even then, it's just a simplified version of a stir-fry, I didn't really need a recipe.
I'll give it one thing though, it looked pretty with the contrast of the green bok choy and purple onions—a bit Barney reminiscent, but that might just be me having bad childhood flashbacks.
The recipe for Tamarind BBQ Tempeh with Sweet Potatoes was much more successful in my book, this will go down as one of my favorite tempeh recipes…a small and exclusive club to this day, although it has been slowly growing on me.  (Tempeh)  I put this together about 5 hours in advance, and I'm pretty sure that marinating time was key to replacing all tempeh's normal bitterness with the flavor of the sauce, so I wouldn't recommend any less although Isa says you can bake right away.  (If you enjoy the bitter taste of unadorned tempeh please feel free…but I don't)  I actually enjoyed the tempeh in this so much that I picked out all the pieces and ate them FIRST…leaving the sweet potatoes for last.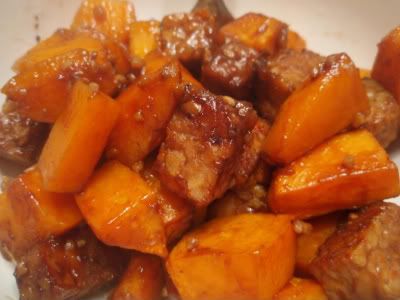 THIS did not taste like diet food…there was nothing at all missing from the recipe, except for something green, but that can always be added on the side….which is what I did with a simple side salad.  (BTW I'm labeling this post gluten free, which it is as long as you use gluten free tamari)
Selah.