Potato-spinach Knishes, VwaV Pad Thai, Hoisen Tofu Lettuce Wraps, and Red Velvet Mole
So I'm finally back from vacation, things are starting to settle back into a rhythm (just starting, I've got a ways to go yet) and I figured it's time I write a bit about the last couple things I made before leaving for the West Coast, as well as the first couple meals I made back in my own apartment.  And let me just say…SEATTLE IS AWESOME.  Not only do they have the best coffee and bubble tea I've ever had (dangerous beyond belief for a caffeine addict like me) but I've never seen a city so vegetarian/vegan friendly in my life.  They have tons of delicious Vietnamese, Indian and Thai food (just to start) and it seems one out of every two restaurants is completely vegetarian.  Even in the ones that are not, everything that is Vegan or Vegetarian is labeled so, and I've never had so many options to choose from.  I've made my own pho in the past…but have never been able to enjoy a fully Vegetarian version in a traditional family-owned pho restaurant.  I.  Love.  Seattle.
Moving on.  Before I went away I was craving some comfort food and seemed to recall a knish recipe I'd been meaning to try from Vegan with a Vengeance.  How I've owned a book that long and not made the knishes is beyond me…I think I may have been assuming they were more difficult to put together then was actually true.  These are actually beyond simply, and with a little homemade honey-mustard sauce, I can't imagine anything more fulfilling.  Definitely a recipe I'll be returning to.  Mine were spinach and potato, but as Isa says, you could probably fill these with pretty much anything.  Yum.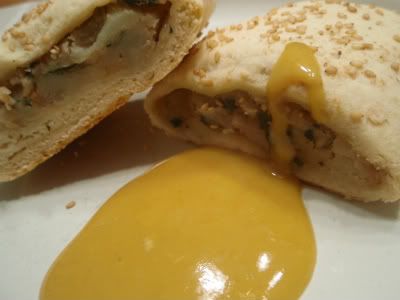 Next up, I returned to the Brooklyn Pad Thai recipe from VwaV, using whatever vegetable I had on hand and wanted to include, but unfortunately also I think…using a bit too much tamarind concentrate.  I followed the recipe, but in retrospect, I think my tamarind was a bit more concentrated than the author may have believed possible.  I've done this recipe once before and really enjoyed how much the tomato paste shone through…this time it was definitely buried under all that tamarind…oh well.  The intense sweet and sour version wasn't so bad either.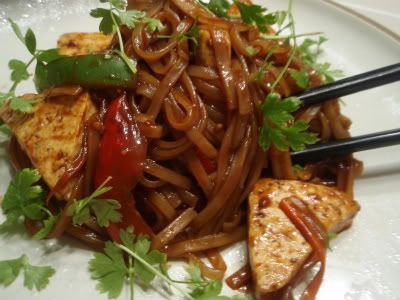 Back from Seattle, and it was time to play with my (and Isa's) newest cookbook, Appetite for Reduction.  Now I won't lie, I was pretty dubious about this one.  Diet cookbooks are not generally my thing, and had it not been by an author I've grown to love and trust I probably wouldn't have given it a second glace.  So far however, it hasn't disappoint.  The hoisen tofu lettuce wraps were delicious, although I chose to replace the iceberg (ew) with a curly green lettuce instead.  I also used couscous to make my own rendition of the "Ethiopian Millet)…a bit dry and over-spiced if you ask me, but not bad.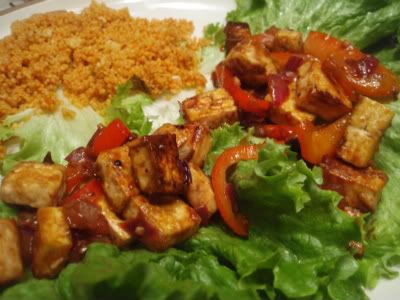 Unfortunately I felt about this the same way I have about my past lettuce wrap meals…they're yummy and kind of fun while you're eating them, but without the carbs I'm hungry again not long after-wards.  The flavor was good, but this isn't nearly as filling as I wanted it to be.
So I've done mole before…namely the V'con, which I liked at first, but then ended up deserting it in the fridge for about two weeks before trashing…it was just a bit much.  After that disaster, it was a long time before I made mole again, I was simply too frightened that it would all go to waste.  When I initially flipped through Appetite for Reduction and saw the recipe for Black Beans in a Red Velvet Mole I certainly didn't think it would be one of the first things I tried, but when we were short on ingredients and needed dinner the other night, I decided to push my reservations aside and give it a shot.  Turns out…this was REALLY REALLY good.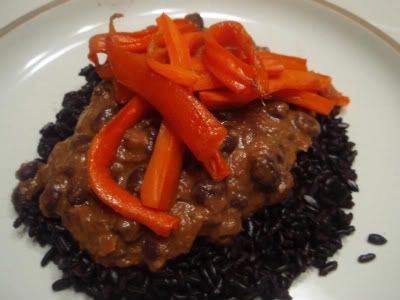 I was carefully to use a bit less of everything, since I'd found that first batch of V'con mole way back when a bit too strong, and used fewer beans then it called for.  This was served up over forbidden rice and along with some of the maple baked carrots which are in the book…but it's not dissimilar from my normal carrot preparation.  On the mole recipe alone the book is in my good graces right now…and just for the record…I've already finished the leftovers.
Selah.