Pineapple Collards over Polenta Stuffing and Brussel Hash
More adventures from the wild world of Appetite for Reduction…I'm moving on to other things soon, I swear.  As far as the collards go, these were pretty good and they're a nice change from my standard collards recipe so I'm sure I'll come back to it at some point, although a bit of spice would've helped matters I think…which isn't to say I couldn't just add some hot sauce of my own after the fact.  Pineapple and greens is a great idea, I'm just kinda bummed I didn't think of it first.  Then again I have been putting umeboshi vinegar in my kale forever, so I think I was on the right track…
The greens were served up over the polenta stuffing from the book which is ok…I've never been a huge polenta fan in general, so I went into this not expecting a whole lot.  Overall I thought it was pretty dry and bland..lacking in that umama element a good thanksgiving stuffing has.
Last but not least, I made the brussel sprout hash.  (Also from the book).  This wasn't bad and would be a nice change to the stand breakfast hash, but I can't say it's my new favorite way to have brussels sprouts..that has to be coated in plenty of oil and oven-baked until golden and crispy…what can I say, you can't mess with a classic.  YUM…I think I'm going to go do that with the leftover brussels right now…I'm drooling just thinking about it…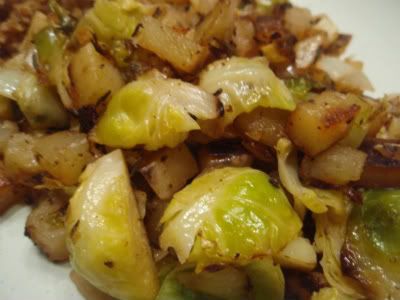 Coming soon:  A little talk about the kalamata olive marinated tempeh from the book…I made it, I'll tell you what I think next time we speak.
Selah.