Mushroom Spaghetti and Two more Tester Recipes
I'd been wanting to try the recipe for Mushroom Fettuccine in Appetite for Reduction for awhile, and even though I didn't have the mushroom soup or mushrooms called for, I made due with what I DID have, and this came out SOOOO good, possibly my favorite pasta dish ever.  (And I realize I say that a lot) but this is my NEW favorite pasta dish ever…until the next one.  I used button mushrooms since they were what I had on hand, and it turned out great.  I also didn't have any portobella mushroom soup and where on earth would I get that anyway?) so I made my own "cream" of mushroom soup, from scratch, before starting on the sauce.  That recipe I can include, following the picture:
Ingredients
5-6 button mushrooms, minced
1 tsp lemon juice
1 tsp Earth Balance
1 tsp shallot pepper (or chopped shallots and pepper if you don't have that spice)
1 tsp dried thyme
1 cup soy creamer
3/4 cup vegetable broth
1 tsp cornstarch dissolved with 1 tsp water
S+P to taste
Directions
1. Melt EB in a medium skillet over high heat. Add mushrooms and spices, allow to cook 3-4 minutes until softened and giving off moisture. then add cream, followed by stock, mixing well. Once it starts to boil, lower to a simmer, and leave for 8-10 minutes. Slowly whisk in corn starch slurry, stirring until soup begins to thicken.
I just threw this right into the sauce for the pasta instead of the "portabella soup" called for, but I'm sure it would be delicious enjoyed as-is as well.  Also, I'm pretty sure the real trick to this recipe was that I put in tons of cracked black pepper…giving it some serious savory zing.
And then there was more testing for Diet, Dessert and Dogs e-books.  I can't give away any secrets, but this first picture is of the "Better than PB&J Breakfast Casserole":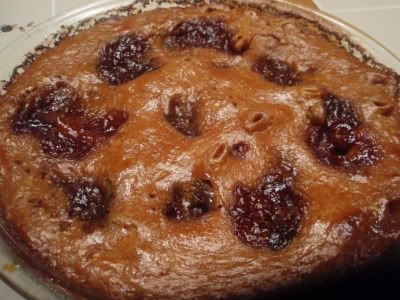 And the second one is of the "creamy basil pesto tofu scramble".  YUM on both counts….
So that's what I've been eating, what about you?  What's getting you through these cold days and mountains of snow?  I'm always looking for new ideas and input…
Selah.