More from the World of Appetite for Reduction
I'm still playing with my new toy these days…checking out the recipes it has to offer, and deciding which ones I'll be making again and again…and which will probably never see the light of day a second time.  Among those that I tried this weekend, were the OMG Oven-baked onion rings, the Green Goddess dressing, and the Mac n Trees…which in my case were Mac n Peas, because I prefer peas to broccoli in my pasta.
The Onion rings were good..I don't know if they were OH MYGD worthy…but they're good.  I liked them a lot better then the Fiber One Cereal covered ones I had from the Hungry Girl cookbook once..those were gross, while these were definitely snackable.  Nothing like the deep-fried beer battered onion rings I made once, but definitely still snackable.  I mixed together some Nayo and relish as a dipping sauce, which made them even better, although it may have obliterated the whole "low-fat" idea.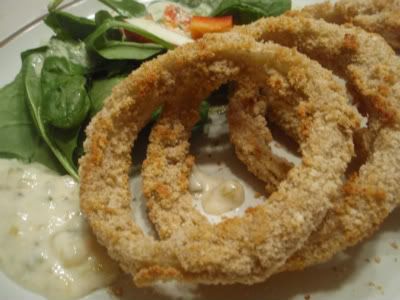 The side salad was drizzled with the Green Goddess dressing from the book, which was ok, but a bit too savory and tahini heavy for my taste…this coming from a girl who could eat hummus 5 days a week.  This wasn't bad, it  just wasn't necessarily what I love  to eat on my salad.
And then there was the mac n Cheese recipe from the book…I decided to oven bake after combining and make it into a casserole of sorts..it was ok for what it is, but not my favorite recipe in the world of Vegan Mac N Cheese.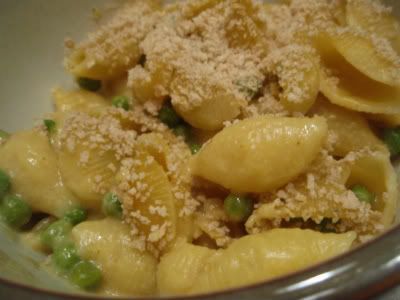 I tend to prefer the renditions that taste more like the real thing…and no one will EVER be confusing this for classic mac n cheese, which is just what you want sometimes.  OH well…you can't win them all, and after all, the author never claims that this will taste like the real thing, so when it comes down to it, I guess I'm just complaining needlessly again.
Selah.