Potato Chickpea Enchiladas and Arroz con Seitan from Vive Vegan
This is basically just a picture post…because I don't want to break copyright laws, and if you don't have Vive Vegan yet…what on earth are you waiting for????  I'm totally in love with the Arroz con Seitan on page 145 pictured here…I was out of peas so I replaced them with corn but otherwise followed the recipe to a T…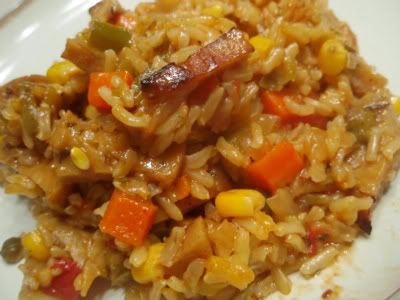 I didn't have a dutch oven either, but you don't need it, a plain old pot on the stove works just as well.  I did use brown rice so I ended up having to add some extra liquid during the  cooking process, but all's well that ends well.
In attempting to make the potato-chickpea enchiladas with green tomatillo sauce, I discovered that it's pretty much impossible to get green tomatillos around here this time of year…don't tell but I ended up using Goya tomatillo salsa…
I also decided to sub in sun-dried tomato tortillas for corn ones…just another one of my little preferences asserting themselves…Good but I don't know if I'd bother with this again, it's nothing to write home about…I much prefer the rice.
Selah.