Pesto Vegetable Pizza
There's nothing quite like a pizza with pesto and sun-dried tomatoes on it…those are my favorite toppings at a Western Massachusetts Pizza place of choice, and it's even better when I can top my own, and add lots of other goodies as well.  Corn on pizza is something you see a lot of in Israel but it isn't terribly common in this country.  I'm a fan though…and if you use frozen it won't burn in the oven or turn into popcorn as the pizza cooks.  (Although it could be kind of fun if popcorn starting popping off your pizza…
There aren't many things I DIDN"T put on this pizza (with the exception of tomato sauce and cheese, because that would just be far too normal) and I was absolutely in love with the flavors, although the crust ended up being a bit too thick.  First a picture pre-oven: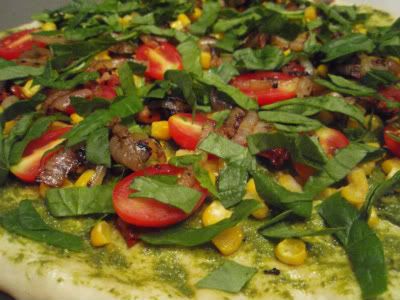 And then my first slice post-cooking…
The entire crust was covered in homemade pesto (I combine basil, Nooch (nutritional yeast), Olive Oil, Garlic, S+P) and freezecubes for easy melt-and-use access.  And then baby spinach, halved cherry tomatoes, sun-dried tomatoes, corn, caramelized onions, a drizzle of white balsamic reduction, and cracked black pepper.  It went into a 450F oven for 12 minutes and came out delicious…definitely a "burn-the-roof-of-your-mouth" event.  Sometimes it's worth it, what can I say…
Selah.