Chipotle, Corn and Black bean Stew
I hadn't pulled Vegan with a Vengeance down in awhile, and I decided it was time to give something new a shot…preferably something for which I already had all the called-for ingredients.  Enter the Chipotle, Corn, and Black Bean Stew.  (page 60)  I didn't actually have chipotles so I should probably change the name…I used some dried jalapeno pieces and ancho chili powder instead…which seemed to work very well.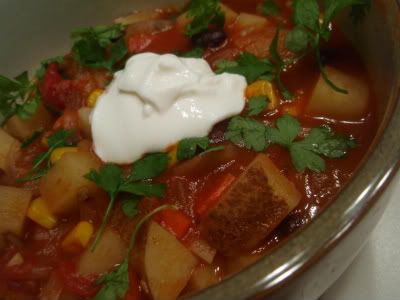 Topped with some Vegan yogurt (or sour cream, whatever floats your boat) and parsley (because we know what my feelings on Cilantro are) this was really good…no terribly unique, but delicious all the same.  It also tended more towards a tomato-potato stew, I barely noticed the black beans in there with everything else.  A Good thing, since I'm getting plenty of black beans with all the Mexican food I've been cooking lately.  (It's back to Vive Vegan for Dinner tonight, so look forward to an entry on that coming soon!)
Selah.