Balsamic Roasted Butternut Squash and Pearl Onions
One of the exciting things about going to the grocery store on black friday (Where there are no HDTV Doorbusters or consumer stampedes) is that generally unexciting cheap vegetables that were overstocked and overpriced for Thanksgiving are suddenly VERY cheap, and widely available.  Take boiling/pearl onions.    Wednesday, November 24th, 2 servings worth would have run you 4 bucks.  Two days later I picked up a pound for 57cents.  Win.  The butternut squash wasn't a bad deal either…let me tell you.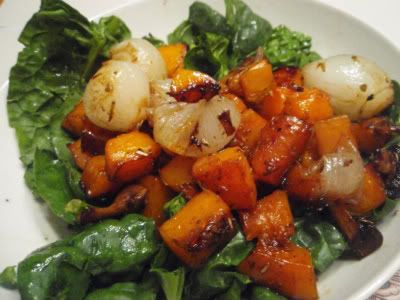 I really enjoy roasting vegetables…all vegetables, even the ones that shouldn't be roasted (roasted celery looks more fun than it is) because I think they smell amazing, look delicious, and there are few things more comforting.  And when it comes to pearl onions, there are two things I really like…red wine and balsamic, and since there wasn't any red wine in the fridge, I went balsamic.
Balsamic Roasted Squash and Onions
One large butternut squash, peeled
1 lb pearl onions, peeled and blanched
1/4 cup balsamic vinegar
1/4 oil of choice. (Not olive it burns at too low a heat)
S+P
1 tbs rosemary
Directions
1. Pre-heat oven to 375F.
2. Combine squash, onions, vinegar, oil, and spices in a large glass casserole dish and toss to coat. Bake for 1 hour, tossing at least twice for even cooking.
3. Serve as desired, I had mine over some lightly dressed raw spinach, but the choice is all yours!
Now be honest, don't you wish you got this meal on black friday?  (And I like cybe Monday better anyway…no lines, no pushing)
Selah.