Baked Pasta, Cabbage Salad, and Mock Lamb (Seitan) Stew
Everyone's gotta have a fall back…and mine is generally a baked pasta dish of some sort…I combine cooked noodles, whatever veggies are on hand, and a really quick version of Vegan White sauce…usually with some prepared red sauce or salsa as well…top with breadcrumbs, and oven-bake.  It's a real cop-out in terms of cooking a meal, but it looks and feels hearty, and that's what counts.  I don't even remember what was in this, since it's long gone now….spinach, tomatoes, some sliced seitan…other then that, I really couldn't tell you….It's topped with breadcrumbs and baked for about 25 minutes at 400F.
This quick cabbage salad is a recipe from Joan Nathan's The Foods of Israel Today, which according to Mrs.Nathan, is the appetizer du jour at Ein Camonim, the Cheese Lover's Paradise in the Upper Gallilee.  That may or may not be true…I thought it was ok, but nothing special..unfortunate since it made about 6 gallons and I'll be eating it for the next two years.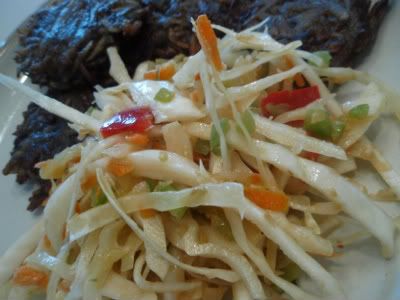 Last but not least, I made the Mock Lamb Curry from World Vegetarian, skipping out on the heavy cream in the recipe, which was definitely not necessary (I thought it was plenty rich with the 4 tablespoons of yogurt called for) and using the white seitan from Viva Vegan.  (or whatever that book is called, I haven't figured it out yet)  I served this up over the coconut rice from Vegan with a Vengeance, skipping the toasted coconut and simply simmering the rice in the milk.  Mmmmm, nice Indian flavors of deliciousness…nothing makes me happier.
It's almost vacation time!  While Chanukah's come and gone, since I currently work in the educational system I get December vacation and I'm spending 8 days out in Seattle this year….so anyone with suggestions for Veggie Seattle eats (and coffee) let me know!
Selah.