Skillet Baked Pasta and Veggies
I've done pasta frittata, I've done plain old pasta in sauce with veggies, but I don't often do the oven-baked pasta "casserole" that my mother made often when I was a kid.  I didn't want to fill this one with ricotta and cheese like those pasta casseroles of my childhood, but I did include the spinach those always had.  (No one had to convince me to eat green as a kid, that may well have been my favorite part of the pasta dish).  I decided to go totally Vegan with this, and as it turns out you don't need eggs to hold things together, and thick roux will do just as well, although having now done it, I'm not sure I'd recommend using tapioca flour in a white sauce.  I kept adding because it didn't seem to have any impact at first, and all of a sudden my sauce had become thicker then glue and I was working to thin it out.  This became a bit of an opportunity to use whatever was sitting around in the fridge, and while it came together nicely, I had the problem with it that I always do with white sauces:  Too rich , not enough acid.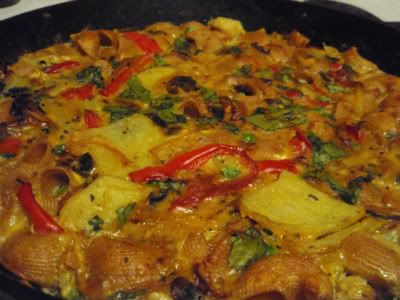 I used whole wheat pasta in this to give it a nutritional boost, and pretty much picked the wackiest shape I could find…just cause.  I also cooked it in my cast iron skillet, which I'm fairly certain makes everything taste better…or perhaps I'm just imagining that because I know it infuses it with iron and makes it better for me…
Ingredients
1/2 pound pasta of choice…I used chicollini (or something like that)
1 lb veggies of choice, I did baby spinach, mushrooms, potato slices, red bell pepper, onion, and peas
2 tbs earth balance
2 tbs tapioca flour
1+ cups non-dairy milk of choice. Unflavored.
2 tsp. Olive Oil
S+P
pinch nutmeg
Directions
1. Heat oil in cast iron skillet over medium heat, and preheat oven to 375F. Heat a small saucepan over medium heat and boil water for the pasta as well.
2. Add Olive oil, onions and any other veggies using (things like spinach and peas can wait) to cast iron skillet and stir to coat. Season with salt and pepper.
3. Melt butter in saucepan and once bubbling, stir in tapioca flour. Combine well before pouring in "milk" and stir continuously as sauce thickens. Season with S+P and a pinch of nutmeg if desired, I always put some in my white sauce.
4. At this point pasta should be cooking. Combine white sauce and veggies in a large bowl, and once pasta is done, drain and toss into the veggie mixture. Combine well, before pouring back into skillet and smoothing top as much as possible.
5. Bake for at least 20 minutes at 375F, until top is crispy.
6. Allow to cool for at least ten minutes before serving, or this will not hold its shape!
There's nothing quite like a baked pasta dish on a cold night, although in the future I might mix some tomato sauce into this one…it was a bit TOO rich for me.
Selah.