Rustic White Beans with Mushrooms and other Thanksgiving-like Delights
I've been cooking sides and desserts to bring home to the family Thanksgiving all weekend, and I decided to make a thing or two for myself as well come dinnertime.  I did the rustic white beans with mushrooms from Veganomicon (using canned beans and oyster mushrooms), topping with breadcrumbs and oven-baking for 25 minutes.  I also mashed some yams with earth balance, soy milk, cinnamon and a bit of salt and pepper and did a small side salad.  Finished off with my attempt at Vegan Fudge (I wasn't a huge fan of the texture on this) and some fresh blueberries, it was like thanksgiving came a early this year…although I would've liked some gravy for the beans…I'm bringing the mushroom gravy I made home to my parents though.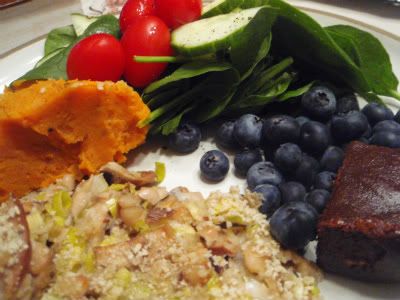 I can't take too much credit…the fresh blueberries were almost unequivocally the star of this meal.  To all my American readers, Happy Thanksgiving everyone!
Selah.