Potato Roti Curry with Gluten-free Apple Crisp for Dessert
The Potato Roti Curry is another test recipe from Cooking Light Way to Cook Vegetarian, and this one is actually 100% Vegan!    I couldn't wait to try this, especially since it looked like stew and with the fist snow a week or so behind us and temperatures dipping by the day, it is officially soup season.  (And THANKSGIVING SEASON….YAY PUMPKIN PIE!)  No pumpkin in this recipe though, so let's get back on track.  The cookbook refers to it as a mild soupy side dish, but perhaps I did something wrong, because I would call this a soup/stew.  It had plenty of liquid, and with all the squash, potato, pepper and spices, was pretty darn filling.  I can't imagine what people are eating for their entree if this is only a side dish…
This actually ended up so mild, I might up the seasoning a bit, but then I like my food spicy and I was expecting that from this.  A nice alternative might be to poke a couple of holes in a scotch bonnet and toss it in during the simmering process…something to keep in mind for next time.  This recipe included one of the "how-to's" sprinkled through-out the book, in this case, "how to peel & cube acorn squash" which unfortunately in this case didn't work out for me.  Poking holes in the squash and microwaving it for two minutes created a hot squash I couldn't touch for awhile…but made it no easier to peel.  I ended up slicing and then peeling with a knife per usual.  One of the nice aspects of this book is the nutritional breakdown underneath every recipe…in case you were wondering, a one cup serving of this comes in at 183 calories and only 3.9 grams of fat.  Not bad…In the interest of full disclosure, I did garnish with parsley instead of cilantro (yech) but I don't think that changes the nutrient facts much.
Desert was a REALLY quick apple "crisp".  After apple picking this year, my roommate made several pots full of pre-cooked apple pie filling, which was jarred and filled up the freezer.  I pulled a jar out, poured the apples into a greased loaf pan, and topped with a combination of brown sugar, equal parts tapioca and rice flour, 2 tbs earth balance, and a heaping tsp of cinnamon.  This went in a 375F oven for 25 minutes just to heat through and combine.  Served up with some Chocolate tofutti…YUM.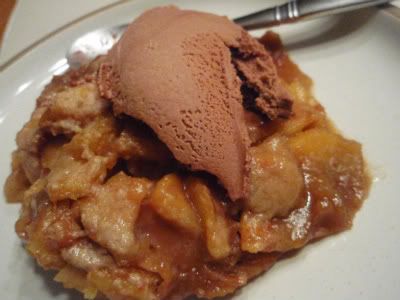 Gluten-free, Soy-Free, and delicious, how perfect could a dinner be?
Selah.