Mojo Seitan and Enchiladas
Mmmm enchiladas, nuff said.  As far as food goes, I'd have to say I grew up in a fusion household.  I don't think it was intentional, but when I think back on it, my mother's top specialties were (are) falafel (Middle Eastern), Kugel (straight up Ashkenazic Jew food), Stir Fry (Asian) and enchiladas(Mexican-ish).  Lasagna made it's way in there every so often too…so we'll call that Italian.
I decided to make enchiladas the other night, which was sort of a random choice, since I had no tortillas, no salsa…no beans…none of the things I normally associate with enchiladas (or Mexican food for that matter) but being as inventive as I am I figured I could  make it work…and I was right.  I called on Vive Vegan for the wheat tortilla recipe…although I'll admit to using unbleached white flour instead of whole wheat, and made the white seitan from the book as well.  I made a riff of the red chili sauce, using onion and garlic powder instead of the real thing, replacing tomatoes with chunky tomato sauce, and adding an avocado for creaminess.  Everything went into a blender together, and that was the sauce that went over the top of the tortillas.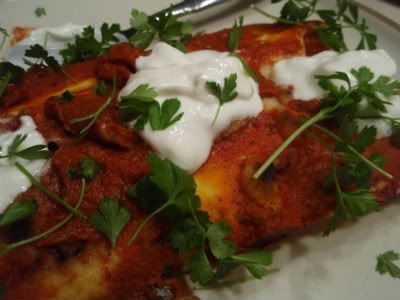 I chopped one of the white seitan "sausages" and fried it up in chili oil with chopped spinach, mushrooms, onions, adobo seasoning, and S+P.  While the oven was pre-heating to 375F, I sprayed a large glass casserole dish to make it non-stick, and then started filling and rolling tortillas, nestling them into the casserole dish side by side.  Sauce went over the top, grated cheese on half for my roomate, I had some Vegan yogurt on mine.  This baked for 25 minutes before serving.
I garnished  with some parsley (not necessary, but I like some green on my food, and since my indoor parsley plant is thriving, I can garnish everything these days.  I may start adding parsley to ice cream…or not.
The mojo seitan was just a way to use up some of the white seitan still in the fridge…I added onions and spinach and served over rice…but it was nothing to write home about.
I was hoping this would develop a nice orange glaze, but no such look…it had some decent citrus flavor, but nothing more, and overall it was a bit dry.  Oh well…they can't all be winners.
Selah.