Middle Eastern Chickpea Miniburgers
I promises some recipes from Cooking Light: Way to Cook Vegetarian and here's your first one.  I also tried the fruit salad with citrus-mint dressing from the book, which was good..but all fruit salads are, I just don't think it warranted a write up as anything different.  But moving on, last night I gave the Middle Eastern Chickpea burgers on page 315 a try, to a pretty good result flavor-wise…but I had some issues with the patties holding together.  After the first few fell apart pretty spectacularly, I added a quarter cup of flour to the mix, and with that addition the last couple held together a lot better.  I must warn you that these are not vegan as written in the book, since they do include egg whites (as a not terribly successful binding agent)  but that's a pretty easy vegan fix…if I gave these another go, I'd probably use ground flax seeds mixed with water instead.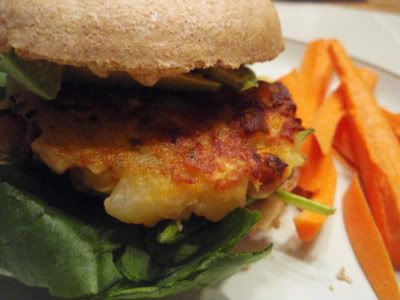 Apart from the holding-together issue, the flavor on these was great, and I enjoyed these ingredients a lot as burgers.  I set them up in homemade whole wheat buns (totally Vegan except for Honey, but if that bothers you I'm sure you could swap out with Agave) with some baby spinach, sliced avocado, and a Nayo-Siraccha spread.
There will be more recipes from the book, but since I've spent a good bit of time flipping through it thus far, I must say there are some components I really love, and some others I'm not as excited about.  A favorite component for me is the "kitchen how-to" pages across from many of the recipes, a couple examples being "how-to prepare quinoa", "how-to wash leeks", and "how-to rice potatoes"  I'm also a big fan of the "Vegetarian Diet Overview" at the beginning of the book, and the Vegan distinction on certain recipes.  On the other hand, I was sad to discover how few of the recipes are actually Vegan…there is a lot of dairy in the book.  One other detractor for me (although this may be helpful for a lot of cooks) is its dependence on pre-made products in many of the recipes, whether it be "canned refrigerated breadstick dough" or "Swanson organic vegetable broth".  I'll admit to taking shortcuts from time to time like everyone else, but in cookbooks, I generally look for the opportunity to do it all from scratch if I so choose.
Selah.