Coming off an Injury with Fava Beans and Couscous
I realize its been awhile, but I've got a good excuse.  I got in a serious car accident about a week and a half ago now, and broke my collarbone, so after the eight and a half hours in the emergency room, I was all wound up in this intense sling/brace combination thing, and couldn't do much of anything useful, which unfortunately included cooking and typing faster then three words a minute.  The collar bone is still broken but it's healing, and after yesterday's check-in with a really good looking doctor (see I can put a positive spin on anything!) I was up/downgraded to a much simpler sling, and as long as I can beat back the pain, have been given the go-ahead to attempt moving and utilizing my arm.  IE I can hold things down to chop them and type with two hands again, things I totally took for granted two weeks ago.  Now that I'm back at it, I made dinner last night, and took a picture of one segment (Didn't bother with the salad or "chicken" noodle soup) and I figured I would post an entry!
Before getting in the accident I made a sort of eggplant dip that I don't remember the recipe for…along with a simple flatbread that consisted of water, flour, zataar and a pinch of yeast to give it a fluffy quality…although I probably could have reached the same result with some baking soda.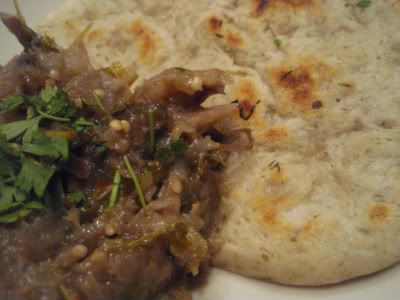 Not a ton to write home about here, the eggplant was mediocre (I boiled instead of oven-baking—never again, and the bread was good, but standard.  Great for ripping up and dipping in hummus, I must say, mostly because I still haven't mastered getting a pocket into pita.  Someday.
Something about which I was very excited recently, was the appearance of canned fava beans on my grocer's shelves…I've been looking for fava beans a long time without much success, and this was like a birthday present staring back at me from among the kidneys and navys, just asking to be bought.  I've discovered in life that people feel about fava beans much the way they do about cilantro…love it or hate it.  I hate cilantro, but I land firmly in the love camp when it comes to fava.  I decided to do these up in what I'm calling "Moroccan" flavors…they aren't at all, but it's my recipe and my blog so I can call it whatever I wish, and as long as no one tells the Moroccans, I think I'm ok.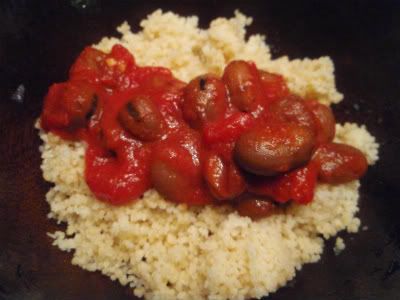 Ingredients
1 15 ounce can fava beans, drained
1 tbs earth balance
1 cup tomato sauce of choice (I like chunks of tomatoes in mine)
1 tsp fresh ginger, minced
1 tsp Sambal Olek
1 tsp honey
1 tsp Sumac
S+P to taste
Directions
1. Heat "butter" in a small wok or medium sized saucepan over low heat, add ginger, followed by fava beans, tossing to coat and allowing to cook for 3-5 minutes. Add sauce, sambal olek (if you're unfamiliar, that's an Asian red chili sauce, available at pretty much any Asian market and in the Asian aisle of most grocery stores), honey, Sumac (a sometimes hard to find Middle-Eastern spice, you can omit or replace with a sweet-ish spice of your choosing) and S+P.
2. Allow to simmer at least 8-10 minutes so that flavors can develop and fava beans soften a bit. Even canned, the outside of these are pretty chewy. Serve over grain of choice. ( I went couscous here since I was thinking Moroccan)
In other news, Tofutti sent me some coupons to pick up some of their products free awhile back, and not shockingly, I decided to go with a few different flavors of ice cream.  I've had the vanilla and chocolate before, but hadn't tried the butter pecan, and that may just be my new favorite ice cream flavor EVER.  I'm not normally a huge fan of nuts in my ice cream, but this stuff is GOOD, and I'm somewhat mortified to admit to how fast I finished the stuff…and was craving more.  So a big shout out to Tofutti for giving me a chance to try out some of their products for free, and if I've ever given you a recommendation, listen now..GO BUY THE TOFUTTI BUTTER PECAN.  Yum.
Also in upcoming things, the day of my accident I actually received a review copy of Cooking Light: Vegetarian Cooking to try out and now that I'm(sort of ) two armed again, expect some feedback and recipes from that coming soon.
Selah.