Potato Salad, Spaghetti Squash, Vanilla Carrots, Lingonberry-Turkey Sandwiches, Quick Kimchee, Sausage/Sundried Tomato Pasta and Steak and Cheese
So I'm fairly certain this is a my longest title ever, and it's all because I've simply been too busy to blog.  Life has been piling up and there are a lot of exciting things going on, and while I've still been cooking and eating, I just haven't been able to post on a daily basis of late.  A lot of things I'm cooking are also repeats so I haven't bothered taking pictures…or they are frankly too simple—no one needs to see a picture of the spaghetti with frozen vegetarian meatballs I ate last night, it tasted good, but then spaghetti and meatballs always does.  Because some of this stuff was so long ago at this point, I don't necessarily remember all the recipes, but I'll try and share what I do remember and least give vague recollections for the others where possible, so here we go!
One of the things I really love and don't get to eat very often is white asparagus…even when it is available, it is normally twice the price of the green variety, and therefore a bit out of range for me, so this is a rare treat.  I was thrilled to see them at the same cost as the green at Whole Foods a couple weeks ago, and couldn't wait to reattain that sweet silky taste they are so famous for…too bad I killed them on the grill.  I grill green asparagus all the time and it's great, so I figured doing the same with white would work great…no such luck.  These were somewhat acrid, more charred then they should have been, and overall underwhelming.  And now I'll probably have to wait months before I'm able to afford white asparagus again.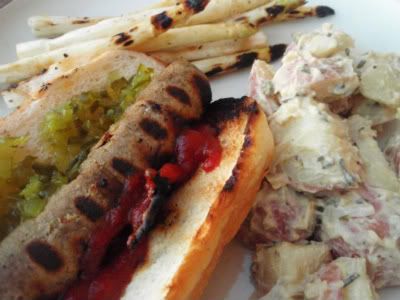 The potato salad on the side was an impulse creation once I'd convinced myself I NEEDED a three pound bag of organic red potatoes which would have looked most at home alongside a lobster…obviously not something ever found in my kitchen.  The salad was a combination of diced and boiled potatoes, Nayo, Dijon, Red Wine Vinegar, Chives, and S+P…I didn't measure out anything so I could've give you an exact recipe if I wanted to….I think I may have included a bit of dried tarragon as well on second thought…  the real trick with potato salad is to give it chill time so that the flavors can meld, other then that, I find pretty much everything optional.
Spaghetti Squash is another seasonal favorite of mine, although this one could've used some more sauce.  I bake the squash halves, scooped out their insides and simple stirred in about half a cup of salsa, fresh baby spinach and S+P.  Nothing special, but it was tasty.
There are some things in life that look more exciting then they are.  One of them is baby vegetables, another thing I picked up at Whole Foods.  I used the recipe for Vanilla carrots on the back of the bag, and while the sauce flavor was good, the carrots ended up chewy on the outside and not entirely cooked on the inside…I swear it wasn't user error though, I followed the directions exactly!!!  Oh well….I guess being a baby vegetable chef isn't in my future, which is fine since it seems a bit cruel to me anyway…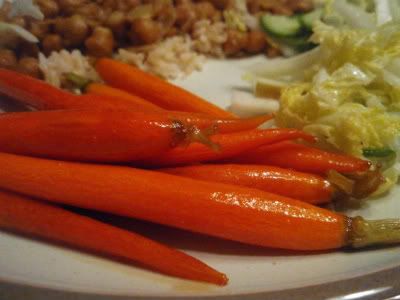 Now THIS was the winner of the week….fairly obviously since I made it three times in about as many days.  I must admit that it's not Vegan, but sometimes I do need a bit of cheese in my life (even though I'm lactose intolerant and that generally involves a lactaid as well)  If I ever open a lunch place (which isn't my plan, but you never know where your life is headed) this sandwich will without a doubt be the first thing on the menu, and I just KNOW it will be a big seller.
Ingredients
2 slices sourdough bread
1 tsp EB/margarine/butter
1 tbs lingonberry jam (yup I get mine at Ikea)
2 slices Tofurkey hickory smoked sandwich meat
handful baby spinach leaves
couple thin slices smoked gouda cheese
Directions
1. Heat EB/butter in a large skillet over medium heat until melted. Place bread slices in skillet to crisp. Spread jam on one slice, and start the other with cheese, followed by "meat" and spinach. Allow to cook another 30 seconds or so before bringing the halves together. Cook another minute on each side to crisp.
2. Slice in half, and Enjoy!
Peeking into the side of the picture there is a quick salad of sliced cucumbers with lemon juice, extra virgin olive oil, and some dried dill.  (It's better with fresh but I didn't have any)
I've made "real" kimchee in the past (don't say that to someone from Korea, I highly doubt my method of placing the jars in the pantry for a couple weeks is equivalent to being buried in the ground for months) but I'm also a fan of quick kimchees on occasion, like this one which I had  over lunch.  It's a simple combination of shredded napa and cabbage simmered in water, brown rice vinegar, and GhoZhiTsang (Korean Hot Sauce) until all the liquid has cooked off.
Enjoy…well…however you like kimchee.
This pasta is pretty standard, with beer brats, spinach and sun dried tomatoes…it's a variation on something I do a lot, so I won't bother with any real description…I just always think it looks good though, so I continue to take pictures.
Last but not least, I attempted a steak n cheese, but something just wasn't quite right here.  I've had a Vegan Steak n Cheese at the Terminal Market in Philadelphia and it was amazing…this one not as much.  Something was just lacking for me.  I used the philly seitan recipe from Vegan Dad but like some of the comments on his blog, I found it to be a bit too spongy for this recipe…I would have gone with an oven-baked or steamed version if I'd thought it through more.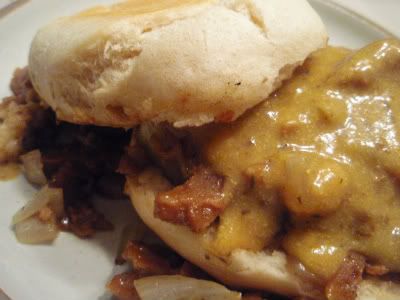 The topping is the Cheezy Sauce from Veganomicon which is good in lots of places…but wasn't entirely what I was looking for here.  So Vegan steak and cheese needs a little work…which is fine, not everything works the first time around.
Selah.