Mushroom Olive Empanadas and Chimichurri Tofu
This post could also be named "….or why I'll never be making anything but Mexican Food every again" because I finally caught up with the rest of the Vegan world and got my own copy of Viva la Vegan" by Terry Hope Romero.  I can't wait to give the coconut flan a try, but I started off with some savory stuff…my own rendition of savory stuff based on what I had in the pantry/fridge of course…
First off I did the mushroom empanadas you can see in the picture section of the book, but based on what I had, switched out whole wheat flour for white, button mushrooms for the fancier ones it called for, green olives for kalamatas, and the "steak" seitan I'd made for the "steak n cheeses" .  It actually came out really well, although they were a bit bland before being dipped in salsa.
Considering this was my first time ever making empanadas I think I put them together pretty well…there were no explosions, no leakage, and they weren't too thick or too thin.  I'm still not a fan of rolling out dough though, and thank good for cutting around a bowl, because I am seriously incapable of rolling out anything perfectly round.
My next pull from the book was the chimichurri tofu, which I ate on a bed of spinach, as nontraditional as that is.  I have a feeling tofu isn't terribly traditional in Mexican food either, so I don't feel bad…  I'd bought this block of tofu at Whole foods and when I opened it, there seemed to be a large bite missing from the corner, so I was unable to make even rectangles, and thereby had some uneven cooking, but I REALLY liked the chimichurri.  I was just glad the recipe called for parsley because there's no way I could've handled that much cilantro…which seems to be all over Mexican food.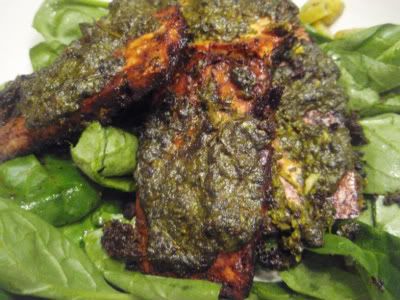 I'm not sure what's for dinner yet tonight…but I'm pretty sure I'll be pulling more from the book…perhaps I'm just an honorary latina this week…or wish I was.
Selah.