Tofu Calabrese
This is another idea I got from my girl Rachael Ray….she was making Chicken Calabrese on her show last week and it looked so darn good (minus the chicken and bacon) that I had to give it a try with tofu…and so I did.  I thought this was ok, and since it was one of the few meals I make during which my roommate actually cleaned her plate, I gather she liked it.
Rachael suggested serving it up with crusty bread, but I find bread pretty close to tofu and don't really need both in one meal, so I skipped out on that…and while it's good as is, I could see serving it over pasta if I did this again.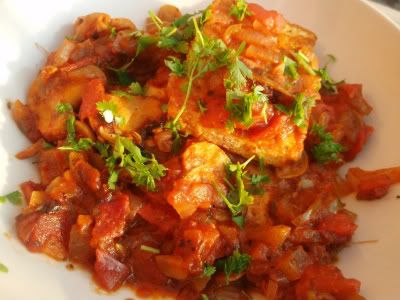 Ingredients
1 tablespoon EVOO – Extra Virgin Olive Oil, plus some for drizzling
1 block tofu, pressed and then cut into 6 rectangles
Salt and pepper
1 cup sliced button mushroom
1 onion, chopped or thinly sliced
1 tsp liquid smoke
1 tsp chipotle seasoning
1 cubanelle pepper, chopped or thinly sliced
3 to 4 cloves garlic, chopped or thinly sliced
1 teaspoon fennel seed, 1/3 palmful
1 cup dry white wine
4 roma tomatoes, chopped tomatoes
1 14-ounce can tomato sauce
A handful of flat-leaf parsley, finely chopped
Directions
1. Heat a skillet over medium heat and add enough olive oil to coat. Fry tofu on each side until golden, before removing to a plate. Add oil to skillet, followed by mushrooms, onions, liquid smoke, and chipotle seasoning. Cook down until soft.
2. Add garlic and pepper, saute for another minute before adding tomatoes, sauce, S+P. let everything simmer for 6-8 minutes before adding the tofu back in. Turn heat to a low simmer, and cook allow everything to cook together for 15 minutes. Garnish with parsley.
What sort of tomato sauce you use is up to you…I added a jarred mushroom and onion one I had on hand, but if you're using a plain one, you may want to add some additional spices of your own.  The original recipe calls for Calabrese Salami, which I replaced with mushrooms, liquid smoke, and chipotle…giving it a bit of a smoky "bacon-type" flavor…I have no clue what calabrese salami tastes like, but I figured this would give me the general idea…
Selah.