Steamed Veggie Wontons
There's this rumor going around that wontons are supposed to be fried, and I must admit I've fallen pray to it in the past…there is after all, something pretty satisfying about that crunch.  I had a totally out-of-the-box idea last week though, I looked at the wonton wrappers I'd picked up at the Asian Market, and I decided to pull out the bamboo steamer and do them up that way.  Wonton wrappers are no steamed buns, but they are VERY snackable, and about a million times healthier than if I'd dropped them in oil.  Especially considering how many I can eat in a sitting…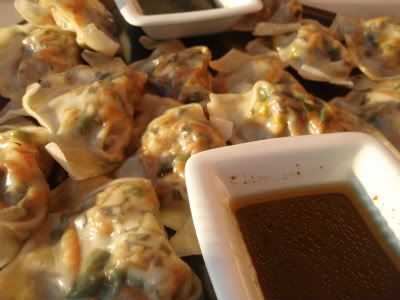 I also could've dropped these in broth for a quick wonton soup…but I did miso soup on the side the second day I did these (yup I made them for dinner twice in a row, they were THAT good) and really had no need to risk their structural integrity in soup.  (That's right, I just used the term "structural integrity" in talking about FOOD).  Now you can use anything you want inside of these, but I can try to remember what I put in mine…just remember to chop everything good and small, and you should be all set.
Ingredients
Wonton wrappers
1 handful spinach, chopped finely
1 carrot, grated
handful wood ear mushrooms, diced finely
1 small omelet (optional) shredded
2 button mushrooms, finely chopped
2 tbs soy sauce
2 tbs mirin
Directions
1. Bring water to a boil in a wok or large mouthed pot. Set yourself up on a counter with cool water, wonton wrappers, filling, and a lightly floured plate.
2. Place about a tbs of filling in the center of a wonton wrapper (I had square wrappers), then dip in water and trace all 4 sides of wrapper. bring diagonally opposite corners up to meet and then press together all the way around. I fold up the corners for added holding powder.
3. Repeat with as many wontons as desired, transferring to the floured plate before the bamboo stickers so they become non-stick. (It works, I swear, no need to PAM the steamer.
4. Place steamer over boiling water and allow to cook 5-6 minutes. When you lift the lid and the wontons look translucent, they are done. Set up with soy sauce based dip of choice.
The great thing about doing wontons is that you can fill them with whatever you want and totally change up a meal, but it always remains finger food…and who doesn't like finger food?
Selah.