Savory Indian Sweet Potatoes and Chickpea Curry over Rice
These two things are pretty different and not really both necessary in a single meal, but I figured since I was making one I might as well do both and have leftovers…which is how it went down, and not to surprise, I loved the one I'd had before and was lukewarm about the other, although I do like a lot of the Moosewood recipes.  I've tried a couple that turned out REALLY gross too though…don't remind me of Grape-Cucumber soup…
I found the recipe for Savory Indian Sweet Potatoes online, and decided to give it a shot, since all it needed to be Veganized was a switch out of regular cream-cheese for a veg. version.  I think I may have poured in a bit too much lemon juice, as this was very acidic, and I think it may have led to some pretty severe heartburn later that night.  It looked pretty though…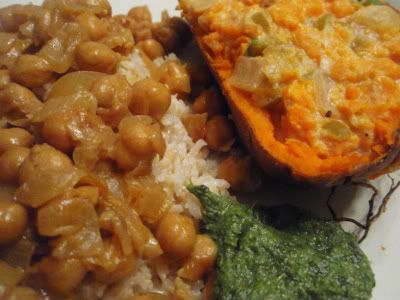 Not something I'd do again, but let me know if you try it and really like the recipe…the online review seemed pretty complimentary.  And now on to the part I DID love, which is the chickpea curry.  This is actually something my ex-boyfriend's mother made for us when he graduated college a couple years ago, and at the time I had seconds and took the leftovers to work for lunch, so I was still thinking about it recently, and asked if she could forward the recipe.  It certainly didn't disappoint!  Still just as good as I remember it, although I did make a couple small changes.
1-3 tbs quality Curry Powder
1 can Garbanzo Beans
Salt to Season
1 tbs lemon juice
1 clove minced garlic
1 small onion, diced
2 tsp mustard oil
2 tbs hemp milk
Directions
1. Heat oil over Medium heat and add onions. Cook 3-5 minutes to soften a bit. Push the onions to one side and add all other ingredients. Stir and simmer on low for anywhere from 5-30 minutes depending on what else you're making. check every so often that it hasn't dried out too much, and if it has, add a bit of the hemp milk or liquid of choice. You can use stock too, but I add the tiny touch of creaminess the "milk" adds.
So simple and so delicious…there's just nothing quite like a classic.  I like it over rice, but it's also great mopped up with roti or naan, and I sometime put a dollop of mint chutney on top…just to spice things up a bit.  It's also important to remember if you've got leftovers…this gets hotter with time.
Selah.