Lemon Basil Oven-Baked Tofu over Pasta
One of the things I like best about the Market I go to (along with the fact that it's fully Vegetarian AND kosher, is the seasonal produce they bring in…and how it changes almost constantly.  The selection actually looks a lot like that at the farmer's market and much of it comes from the same farms…only it hasn't been sitting out in the sun spoiling for a couple hours.  Last week I picked up a MASSIVE bunch of basil they'd brought in from a local farm, and since I've already got pesto in the freezer, I knew that I wanted to do something different with it.  My first thought was somehow incorporating it with a protein, and upon a google search, I found this recipe for grilled lemon-basil tofu.  I was actually to lazy to grill, so I oven-baked, and that turned out great.  I also decided to serve it up over pasta instead of between a bun.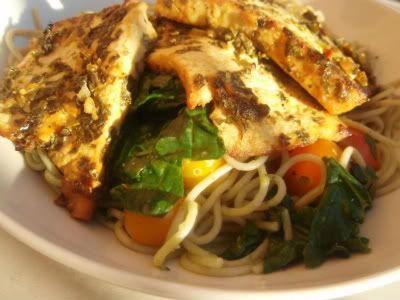 The pasta was tossed with some orange cherry tomatoes grown locally, spinach (possibly local but I'm really not sure) and extra Virgin Olive Oil and S+P.  I followed the lemon-basil tofu recipe through 'tofu' ignoring the spread recipe because I wasn't making a sandwich, but feel free to try it out and let me know how it goes.  I oven-baked the tofu at 400F for 20 minutes on one side, flipped and did another 20 minutes on the other.
I really liked this, although I don't know how I feel about tofu between bread unless it's swimming in barbecue sauce…I think I'd stick with serving over pasta or rice with this one…but that's a just a personal preference, feel free to do whatever floats your boat.
Selah.