Cold Chickpea Salad and Mushroom Stuffed Eggplant
This is going to sound weird…but while I love falafel and Hummus (basically two different forms of chickpeas) I generally don't like the things whole…if it actually looks like a chickpea…9 times out of 10, I'm not interested.  It was REALLY hot last week though, and I simply didn't have the patience to make hummus, so I decided to try something with cold, whole chickpeas, and you know what?  I totally didn't mind it…I think I may have even liked it….*GASP*.  It was pretty for one thing, take a look:
I had some gorgeous bright yellow tomatoes on hand, although you could make them with whatever is in your fridge at any given time…  I also liked it because it literally took less then five minutes to make, and if you've been reading my blog for very long, you'll know that I am the queen of the quickie meal…nothing makes me happier then something that comes together fast and tastes good to boot.  Since I was the fan, here's the lowdown so you can make it too:
Ingredients
1 can chickpeas, rinsed and drained of water
2 handfuls baby spinach, rolled and chopped in a chiffonade
10-15 cherry tomatoes, halved
2 tsp white wine vinegar
2 tsp olive oil
S+P to taste.
Directions
1. Combine everything in a covered bowl, toss to combine, and refrigerate at least 30 minutes before serving so flavors can meld.
Since I'd bought an eggplant as well and wasn't totally sure what to do with it, I went with a stuffed application, using this recipe but skipping out on the cheese topping.  Instead I poured salsa over the top, since the original recipe was dry and pretty non-acidic.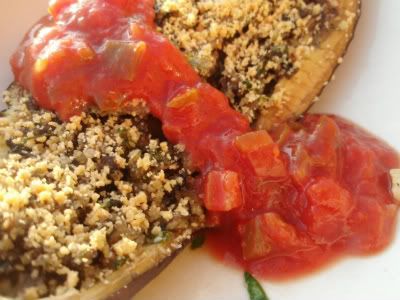 It's a good way to use up eggplant and mushrooms, but the actual eggplant shell which still had a good bit of flesh attached to it turned out more or less inedible, because it wasn't cooked long enough but the insides were on the verge of burning.  Funny how that happens…I'll have to mess with either the flesh to filling ratio or the cook time if I do this again…
Selah.