Battered Tomato Salad and Baingan Bhartha
Everyone's heard of fried green tomatoes, but large green tomatoes are hard to come by in these parts, and frankly whenever I pick up a large heirloom, I have an overwhelming desire to fry it.  What can I say?  They just seem to call out for the treatment.  This was a large yellow and orange specimen that I picked up at the farmer's market, coated with soy milk, flour, and more soy milk, and then laid over a simple salad of chopped spinach, carrot, green apple and avocado with a bit of lemon juice, Olive Oil and S+P.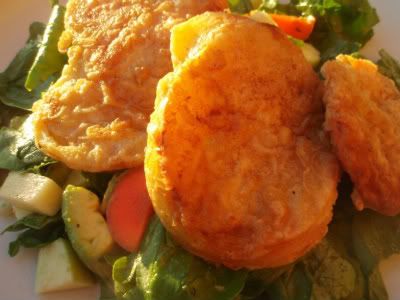 The problem with frying a fully riped tomato is that it gets soggy very fast, but all the same, it was quite delicious and I think it took a beautiful picture…with a chill in the air we're quickly coming to the end of salad season and entering the soup months, so I had to get some fun ones in before I give up my weekend to cubing butternut squash and pureeing pumpkins.  The apple in the salad was fresh-picked by me though…made sure to get my favorite fall activity in a week ago!
I've also been talking to a friend in India a lot lately, and among many of the awesome things I gain from speaking with him, our conversations also tend to have me craving Indian food.  (Or what imitations of it I can cook)  In this case I had a couple long eggplants (also from the farmer's market) in the fridge, and decided to bring Google into the picture so I could find a recipe for which I had all the ingredients.  The decision was something called Baingan Bhartha (I think Bartha means eggplant, correct me if I'm wrong…) that was really simple and totally fullfilled my craving.  I used the recipe found here and served it up with Greek Yogurt (replace with your favorite Vegan option) Mint Chutney, and homemade Roti with a personal flair so I'll give you my Roti recipe.  First however, a picture of the eats…
And now for my personal Indian/Israeli fusion Roti recipe:
Ingredients
2 cups whole wheat flour
2 tbs Mustard Oil
1 tbs Zataar
1 cup water
Directions
1. Combine flour, oil and zataar, and then slowly start adding the water until you have a uniform, non-sticky dough. Roll into a ball and then lightly oil a bowl. Put the dough in the bowl, cover with a damp towel and leave alone for at least 15 minutes.
2. Heat a cast iron skillet over med/high heat and add a pat of butter. Pull a golf ball sized peace of dough off and roll out as thin as possible with a rolling pin. Toss on skillet, once it starts to bubble, flip and cook other side. Makes approx. 6 rotis.
The way to eat this is to rip peices of the roti and scoop up as much of the yogurt, chutney and eggplant as possible…if you don't have to lick your fingers, then you aren't doing it right.
Selah.