Scones and Potatoes
I did a breakfast for dinner sort of thing the other day, with scones and maple-baked potatoes and carrots.  The scones are actually the chive spelt biscuits from Vegan Brunch, except that I replaced the spelt flour with standard white, adding about a cup to create a dough instead of a batter, and cut them like scones.  I think I cooked a bit longer then recommended as well.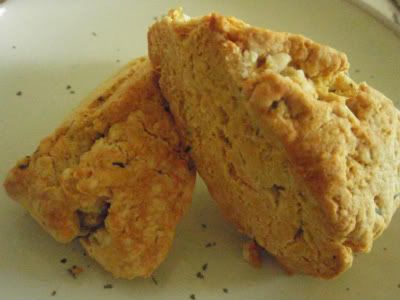 Really good served warm with some Earth Balance…but then I bet you already  knew that.  I sprinkled some dry
chives on the plate as well…just for a bit of decoration, so feel free to skip that step.
I also simplified an old classic, tossing some potatoes and carrots in a mixture of maple syrup, water, S+P and then baking for just over an hour at 400F.
Pretty much anything baked with maple syrup is a win around here…is it the same for you?
Selah.