Potato – Broccoli Soup and Pasta Frittata
It cooled down for most of last week, and with that dip in temperature,  I was craving soup again.  I decided to pull out V'con again, since its been sitting on the shelf for awhile, and see if there were any new soups I hadn't made yet and had all the ingredients for.  I was in luck…everything for the Potato – Broccoli soup was in my fridge, and it even sounded like something I wanted to eat.  As it turns out, I liked this a lot, although I did feel the original recipe was lacking a bit of  "brightness" in flavor and added a generous splash of lemon juice at the end to modify.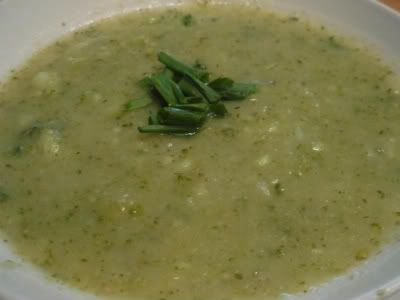 Unfortunately I didn't take a picture, but I did do a very simple loaf of soda bread on the side, which was quite yummy dipped into the soup.  (yes, I just said yummy, don't make fun!)  I used this recipe, and simply subbed in some original flavor hemp milk for the buttermilk called for.  Margarine or even oil work just as well in place of the butter.  It's things like this that make me ask myself why I ever bother with yeast…
I also whipped up a quick frittata out of leftovers, which is NOT vegan.  It's a combination of eggs, cooked spaghetti, mushrooms, a chopped Yves dog and some salt and pepper, cooked in a large cast iron skillet until crispy on top.  Great with ketchup…and just a real easy go-to for leftovers if you don't mind eggs or replace with silken tofu and cornstarch.
I'm really just in love with how the noodles get all crispy on top…everything else is secondary.
  Until next time…
Selah.